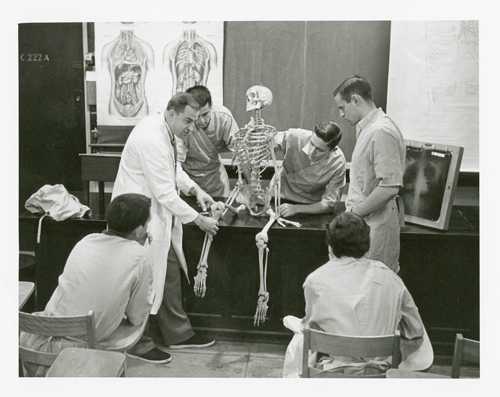 New Lives for Old Specimens
May 25th-November 3rd, 2017
Cushing Rotunda, Cushing/Whitney Medical Library
Is there any use for old anatomy and pathology specimens, usually consigned to dusty basements for storage or destroyed after a number of years?   In our new exhibition "New Lives for Old Specimens," the Cushing/Whitney Medical Library features current medical research using historical specimens from Yale's collections.  Multiple curators drawn from inside and outside the School of Medicine, including a Yale medical student, Yale faculty, and Connecticut and international research teams, describe projects involving historical specimens.  From tumors in the Cushing brain tumor registry and fetal skulls within the Kier/Conlogue collection to 1970s dissection videos featuring the late Yale Professor of Anatomy Edmund Crelin Jr., old specimens are finding new ways into current research and medical education.
Please see the digitized dissection videos from Dr. Crelin and current videos put out by the Department of Anatomy here: http://tinyURL.com/CrelinExhibit
Curators: 
Charles Cecil Duncan, MD, Professor of Neurosurgery and of Pediatrics
Shanta Elizabeth Kapadia, MBBS, Lecturer in Surgery (Gross Anatomy)
William B Stewart, PhD, Associate Professor of Surgery (Gross Anatomy); Section Chief
Cynthia Tsay, Yale School of Medicine student, Class of 2018
Gerald Joseph Conlogue,  MHS, RT(R)(CT)(MR), Professor Emeritus, Diagnostic Imaging Department
Co-Director, Bioanthropology Research Institute at Quinnipiac University, Curator, Kier/Conlogue Anatomic Collection
Moral Judgment in Evaluating Disease: Some Pictures for Discussion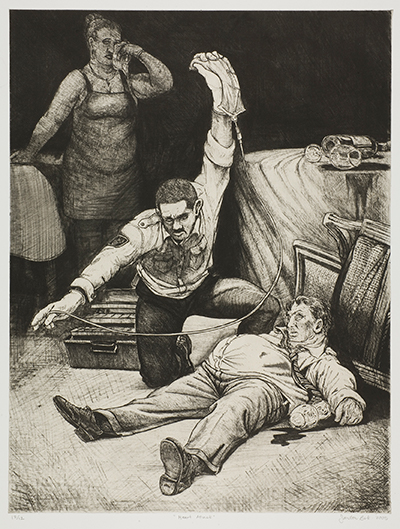 Curated by David K. Dupee and Melinda Wang, M.D. Candidates, Class of 2020, Yale School of Medicine, this new exhibit in the hallway, is a collaboration of the Program for Humanities in Medicine and the Cushing/Whitney Medical Library.
By virtue of its ubiquity, we all practice moral judgment at some degree long before developing an aptitude for clinical evaluation. Ideas of how a "good" person should look and act, reside within us and subtly impact the way that we perceive those around us. This practice is so deeply ingrained that it can carry over into the clinic, leading well-meaning practitioners to perceive patients both clinically and morally. 

We have organized a collection of prints that encourage the viewer to confront the cultural constructs that underlie moral evaluation. In presenting prints from the 18th, 19th, and 20th centuries, we aim to impress upon viewers that the association between health and morality is deeply ingrained within the very fabric of society, and indeed, stretches far beyond the period that our exhibit encompasses. We have prepared a hypothetical patient vignette for each print to further conversation about morality and the practice of clinical medicine. It is our hope that viewers will see the chosen depictions of mental health, illness, and body image not as distant echoes of the past, but rather as preludes to forces that remain substantial in the modern era.
The exhibition is on view April 28 through September 5, 2017.