Want to learn more about the smart and dedicated women who supported the work of our namesake, Harvey Cushing?  Explore our newest exhibition, curated by Emma Brennan-Wydra, Stanley Simbonis Intern for the Medical Library, and now on view in the Cushing Center!
Throughout his career, Dr. Harvey Cushing employed a team of women who assisted him as secretaries, typists, medical artists, operative photographers, laboratory technicians, and more.  Cushing's female associates referred to themselves jokingly as his "harem," but they were far more than that.  These working women were indispensable to Cushing, and their contributions are evident throughout his published works, as well as his diaries and correspondence.  Three of Harvey Cushing's assistants, in particular—secretary Madeline Stanton, neuropathologist Louise Eisenhardt, and medical illustrator Mildred Codding—are remembered not only for their proximity to the famed neurosurgeon, but also as leading lights in their own respective fields, with careers extending decades beyond Cushing's death in 1939.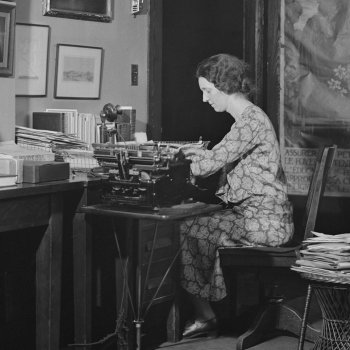 Madeline Stanton, who worked as Cushing's secretary, played a major role in the organization and development of the historical collections at the Yale Medical Library (now the Cushing/Whitney Medical Library).  As Librarian of the Historical Collections from 1949 until 1968, Stanton maintained an "atmosphere of generous and kindly learning" in the Historical Library.  "She always knew," recalled Gloria Robinson, wife of Yale neurosurgeon Dr. Franklin Robinson.  "She had endless special knowledge."  (Photograph by Richard U. Light, courtesy of the Harvard Medical School Archives at the Countway Library of Medicine.)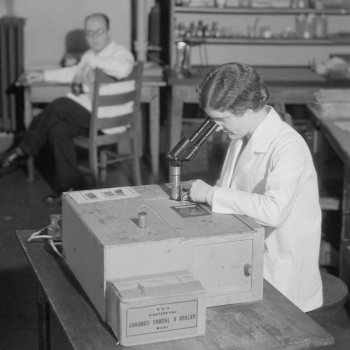 Louise Eisenhardt, whom Cushing originally hired as an editorial assistant, obtained a medical degree for herself in 1925 and worked as Cushing's pathologist.  A leading expert on tumor diagnosis, Eisenhardt was the first woman president of the American Association of Neurological Surgeons and the first managing editor of the Journal of Neurosurgery, a position she held for 22 years.  She was also the curator of the Brain Tumor Registry, Cushing's collection of pathological specimens and patient records, which is now housed in the Cushing Center.  (Photograph by Richard U. Light, courtesy of the Harvard Medical School Archives at the Countway Library of Medicine.)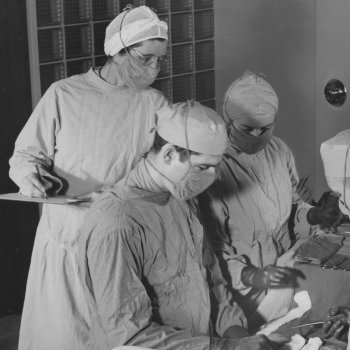 Mildred Codding was a medical illustrator who worked with Cushing from 1928 until his retirement from the Peter Bent Brigham Hospital in 1932.  Her surgical drawings and anatomical diagrams grace the pages of many of Cushing's published works.  A student and disciple of famed medical illustrator Max Brödel, Codding made masterful use of the carbon dust technique, resulting in wonderfully vivid, detailed, and realistic illustrations of living tissue.  After Cushing's retirement, Codding stayed on as an illustrator at the Brigham.  Her later illustrations appear in a number of major works, including Zollinger's Atlas of Surgical Operations.  (Photograph by Russell B. Harding, courtesy of the Brigham and Women's Hospital Archives.)
Learn more about these exceptional women at our new exhibition in the Cushing Center, which features photographs, correspondence, books, slides, and original surgical illustrations by Mildred Codding.  An online companion to the physical exhibition, which includes additional photographs and information, is available here.