At the end of May ten of our librarians attended the Medical Library Association (MLA) Annual Meeting in Atlanta, GA. The MLA meeting schedule was chock full of classes, poster sessions, formal and informal meetings, sharing sessions, exhibits, and paper sessions that explored the latest trends in medical librarianship. Our librarians taught and took continuing education classes, presented six posters and two papers, and served on committees, special interest groups, and task forces. By attending MLA, our librarians contribute to the profession as well as gain practical ideas and knowledge that help us better train healthcare professionals to make the best evidence-based decisions. To highlight a few:
Melanie Norton, Head of Access and Delivery Services, has been invited to join the Editorial Board of the Journal of the Medical Library Association (JMLA). JMLA Editorial Board members make critical contributions to the quality and direction of the JMLA by lending their specific expertise, reviewing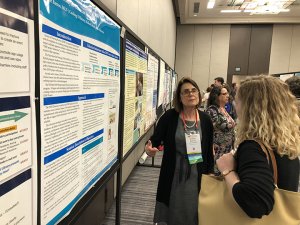 manuscripts, assisting with the development of journal policies and practices, and acting as ambassadors of the journal. Melanie brings to the JMLA a record of scholarly publishing and a deep knowledge of health sciences librarianship.
Janene Batten, Nursing Librarian, was selected as a member of the inaugural Research Training Institute for Health Sciences Librarians.The Institute provides practicing librarians an opportunity to immerse themselves in instruction and activities related to scholarly research, inquiry, and publishing. Janene will attend a week-long intensive in Chicago in July to learn about research design. She plans to research the information needs of nurse practitioners based in Connecticut school-based health centers.
Poster & Paper Presentations
Janene Batten– Integrating into the Doctor of Nursing Practice program: A case study in librarian immersion
Melanie Nortron, Janene Batten, Alyssa Grimshaw– 2017 Inaugural celebration of Yale School of Nursing authors
Holly Grossetta Nardini, Fanny Duprilot, Kate Nyhan, Rolando Garcia Milian, Lei Wang, Judy Spak, Melissa Funaro, Janene Batten, Janis Glover– Librarians as methodological peer reviewers for journal systematic review submission
Caitlin Meyer– Transforming our teaching: adapting our instruction program to better meet user needs
Kate Nyhan–Institutional research impact assessment: how I learned that good can be better than perfect (and how I discussed this with faculty) (paper)
Alexandria Brackett (with former colleagues from LSU) – Transforming a Nation: Leading Librarians to Consumer Health by Adapting Access to the Consumer Health Information Specialization Program
Melissa Funaro, Kate Nyhan, Alexandria Brackett, Andy Hickner, Rolando Garcia Milian –Developing a program for Institutional Animal Care and Use Committee compliance: benefits for researchers and libraries (paper)
Katherine Stemmer Frumento and Donna Belcinski (Greenwich Hospital) – Opportunities to grow: adapting services, transforming relationships, and leading the informational way on the magnet journey