The Yale Medical Library will be hosting a National Center for Biotechnology Information workshop series (broadcasted from the University of Michigan Medical Center). Please register (next to each workshop title) since seating is limited
Navigating NCBI Molecular Data through the Integrated Entrez System and BLAST (May 5, 9:00am - 11:30am EDT) REGISTER HERE
Gene Expression Resources at the NCBI (May 5, 1:00pm - 3:30pm EDT) REGISTER HERE
Human Genes, Variation, and Medical Genetics Resources (May 6, 9:00am - 11:30am EDT) REGISTER HERE
NCBI Genomes, Assemblies and Annotation Products: Microbiome to Human (May 6, 1:00pm - 3:30pm EDT) REGISTER HERE
Each workshop consists of four 2.5-hour hands-on sessions emphasizing a different set of NCBI resources. Each session uses specific examples to highlight important features of the resources and tools under study and to demonstrate how to accomplish common tasks. Attendees will learn among others:
The content of the sequence databases and uses these as exemplar Entrez molecular databases.
The importance of derivative data such as NCBI Reference Sequences (RefSeqs) and sequence-related Entrez information hubs such as Taxonomy, HomoloGene and Gene.
Aspects of the Entrez interface to collect and download a specific set of records, to narrow the search, and to use the pre-computed relationships available in the Entrez system to find related sequences, genomic regions, genomic maps, homologous genes and proteins, pathways and expression information.
The practical aspects of working with NCBI BLAST, the most popular sequence similarity service in the world.
How to use the features of the updated service including direct access from the Entrez sequence databases.
The integrated databases to find phenotypes, literature, sequences (genome, mRNA and protein), and variations.
How to map variations onto genes, transcripts, proteins, and genomic regions.
Gain experience using additional tools and viewers associated with Entrez. These include the Graphical Sequence Viewer, the Variation Viewer, Gene View in dbSNP, and the 1000 Genomes Browser.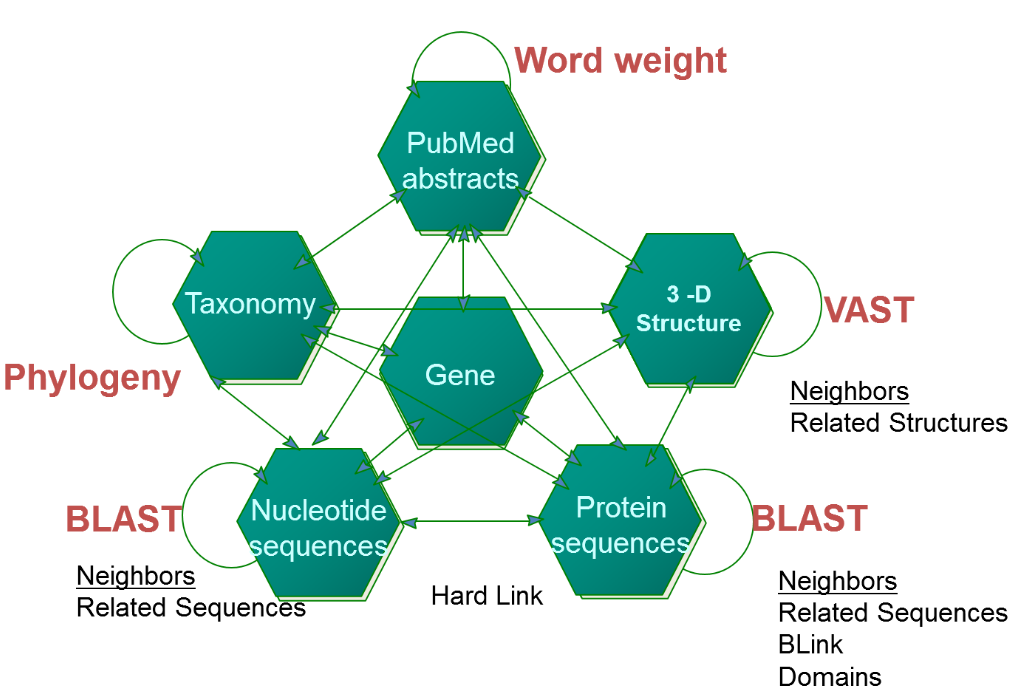 NCBI's Entrez as a discovery system. Image courtesy of Dr. Peter Cooper, NCBI.