New Biosketch Format Required for NIH Applications Submitted on or After May 25, 2015
In a notice issued last December 5, 2014, the National Institute of Health (NIH) and the Agency for Healthcare Research announced the requirement of a new biosketch format for grant applications submitted for due dates on or after May 25, 2015.
The new format extends the page limit for the biosketch to five pages. It allows researchers to describe up to five of their most significant contributions to science. Each description can be supported by a list of up to four peer-reviewed publications or other research products, including A/V products, patents, databases, educational materials, instruments or equipment, models, protocols, etc. that are relevant to the described contribution.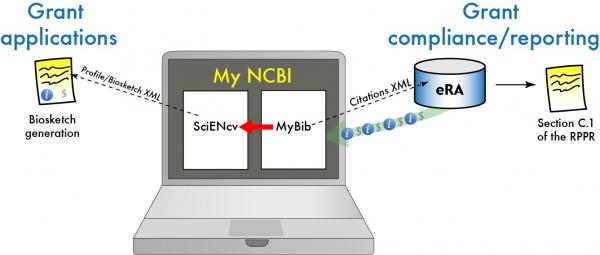 Image courtesy of Dr. Trawick, National Library of Medicine, NIH
Although not required at this point, the NIH suggests the use of the Science Experts Network Curriculum Vitae (SciENcv), -a MyNCBI online tool- that serves as an interagency system designed to create biosketches for multiple federal agencies. This, along with the use of My Bibliography for grant activity reporting and NIH Public Access Policy compliance, increases the importance of using MyNCBI as a tool for managing NIH-sponsored research.
In response to this, the Cushing/Whitney Medical Library will offer the workshop "My Bibliography and SciENcv:  grant reporting, compliance and biosketch through MyNCBI" to introduce researchers, research assistants and administrators on the effective use of these online tools.