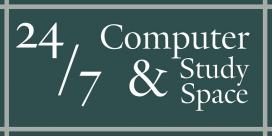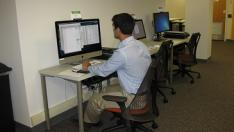 The Medical Library Computer Resource Laboratory (CRL) has reopened with a very different look. We decided it deserved a new name - the 24/7 Computer & Study Space. The new name emphasizes the multiple purposes of the room and reminds our users that is accessible to anyone with a Yale University ID badge anytime, day or night.  Some of the changes you will see in the renovated space are:
All new furniture with more work space
Upgraded monitors on Windows computers
New software such as qualitative analysis software packages Atlas.ti and nVivo
Height-adjustable tables (great for laptop users)
A large wall-mounted monitor for collaborative work
COMING SOON! Soft seating for the area around the monitor
Entrance to the 24/7 Space is through the door just past the newspaper reading area whenever the library is open.  After hours entry is from the stairwell just outside the entrance to the Medical Library.  We hope you will enjoy the enhancements to this space.