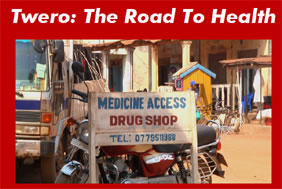 Don't miss the chance to view this film by 2012 Yale School of Medicine graduate Michael Otremba, MD.  This documentary follows a Ugandan journalist who investigates how patients often must seek care outside of an underfunded and overburdened public system. Desperate for help, patients are turning to an unregulated private health sector, where services are accessible, but at a significant cost. When patients cannot pay
their medical bills, doctors are resorting to imprisoning them.  Dr. Otremba, currently a Postdoctoral Associate at the Yale School of Medicine,  received the "Innovative Learning through Electronic Theses & Dissertations" from the Networked Digital Library of Theses and Dissertations in August.  Most recently, he won best documentary feature at this years' NYLA International FIlm Festival.  You can read more about his work in the latest issue of Yale Medicine
The film will be shown on Monday, November 5 at 6:10pm in Room 129 at the Yale Law School.  A Q&A session with the director follows. This showing is sponsored by the Orville H. Schell, Jr. Center for International Human Rights.