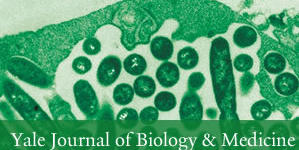 The Yale Journal of Biology and Medicine is a quarterly journal reviewed and edited by Yale biomedical faculty and students. The journal aims to showcase outstanding research articles from all areas of biology and medicine, publish significant case reviews, and provide both perspectives on personal experiences in medicine and reviews of the current state of biology and medicine.
Each Issue of YJBM features a Focus Topic. Upcoming Focus Topics are:
March 2012: Translational Medicine
June 2012: Biomedical Engineering
September 2012: Educating yourself in Bioinformatics
December 2012: The Brain
YJBM is available on PubMed Central and is an open-access publication. All publication costs are covered by the journal.
Please contact the editors at yjbm@yale.edu if you would like to discuss ideas for articles or are more interested in writing book reviews or reporting on various medical and scientific symposia occurring at Yale.