Why I give?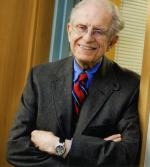 Donor Dr. Stanley Simbonis encapsulated the spirit of giving in writing the following poem, which he shared on Associates Day 2016:
This loneliness so utter
No angels ever shared
This dream so sought, so hard
That reason dissolves
Through rules deceive
Yet belief remains, relieves.
Self belief, mutual belief
To ease the wait, ease the doubt
And bare vision that must be true.
What a selfless dream
Fulfilling the debt with these
Heartening, joyous gestures.
Stanley Simbons, '53 '57 M.D.
April 6, 2016
Dr. Simbonis adds, "The library is the heart and soul of the university. It's the crown jewel. How can you do without it? It's been a storehouse of knowledge throughout the ages."