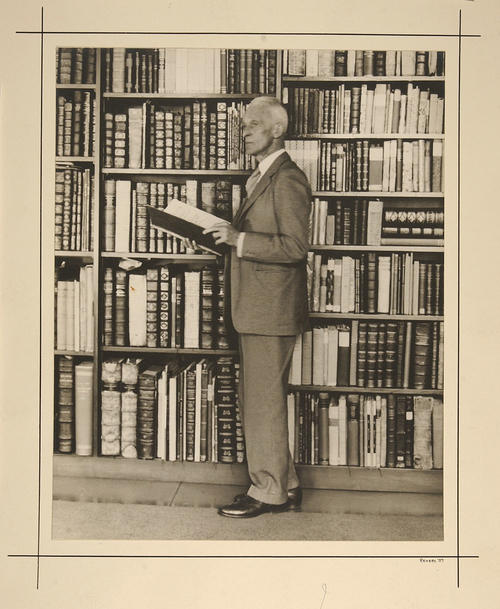 Harvey Cushing, M.D., 1869-1939 Internationally renown for his preeminence in neurosurgery, Cushing returned in 1933 to his beloved alma mater, Yale (Class of 1891), as Sterling Professor of Neurology.  Disciple and Pulitizer-prize winning biographer of William Osler, Cushing turned to book collecting early in his career.  His interests were very broad, extending to the classics of astronomy and the physical sciences, but among his special interests were Vesaliana, the works of Ambroise Paré, anatomy and surgery in general, medieval and Renaissance medical manuscripts and medical incunabula. Toward the end of his life he was working on his Bio- Bibliography of Andreas Vesalius, published posthumously in 1943.  Under the auspices of the Historical Library, a printed catalog of the Cushing collection appeared that same year.
Cushing, Fulton and Klebs were medical humanists who regarded books as the key to understanding the past and as a means of guiding the present and future of medicine and science.  Books and their authors were an integral part of their lives.  Cushing envisioned a great medical library with both rare and new books as "a common meeting ground where the different streams of knowledge will coalesce" and a place "where an interest in the history of our great profession will so flourish as to permeate into all departments of a much-divided [medical] school."  This photograph shows Cushing and his books in his home on Whitney Avenue, New Haven, in 1937.
This copy of the first edition of Vesalius's celebrated masterpiece was given to Cushing by William Osler in 1903. Shown is one of the famous muscle men.

Andreas Andreas Vesalius, 1514-1564.De humani corporis fabrica libri septem. [On the Fabric of the Human Body] Basel: Ioannis Oporini, 1543. Gift of Harvey Cushing

Collecting Vesalius meant more than editions of De Fabrica. This is the first edition of Veslius's first book, written when he was 23, a paraphrase of the ninth-century Arab physician Rhazes. It is Vesalius I.1 in Cushing's Biobibliography and a far rarer book than the Fabrica. It appeared in 6 editions.

 

Andreas Vesalius, 1514-1564
Paraphrasis, in nonum librum Rhazae [Paraphrase of the Ninth Book of Rhazes]... autore Andrea Wesalio Bruxellensi Medicinae candidato. Louvain: ex officina Rutgeri Rescij, 1537. Gift of Harvey Cushing.

 

This is the smaller version of a larger bookplate that Cushing had designed in 1895. It is found in most rare books donated by Cushing. The Bequest of 1939 plate, adapted from the first plate, was used for Cushing's books that did not already have plates. Yet another bookplate is currently used for rare books and prints purchased from the Harvey Cushing Book Fund for the Historical Library.

Cushing bookplate, 3 x 5.2 cm

Also known as Hortus sanitatis, this incunabula herbal was purchased by Cushing in 1934. Klebs had inspired Cushing to collect herbals and incunabula, two subjects of great interest to Klebs, though he himself could not afford them.

Living in Europe, Klebs often helped to find such books for Cushing to purchase. The Mainz printing of Gart der Gesundheit was such an example, one that Cushing had especially sought. It was said by Fulton to be "one of the cornerstone of his [Cushing's] incunabula collection." According to Klebs this book was, "the most import mediaeval work with illustrations, the publication of which forms an important landmark in the history of botanical illustration."

Gart der Gesundheit., [Garden of Health] Mainz: Peter Schoeffer, 28 March 1485.