The approximately two thousand prints and drawings which Clements C. Fry bequeathed to Yale University in 1955 were the culmination of thirty years of active collecting.
Humorous and satirical prints, numbering almost one thousand, reflect Fry's relish for the amusing as well as the ready availability of such works at the time.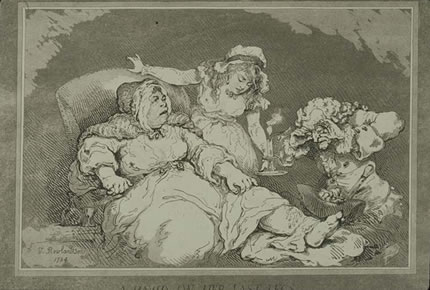 Thomas Rowlandson (British 1756-1827) "A Bawd on her Last Legs," aquatint, 1784, is among the collection's 120 prints by the artist, one of Fry's favorites.


Honoré Daumier's (French 1808-1879) Le Diamant Magnétiseur, 1860, was among prints pertaining to hypnotism that Fry acquired in 1939.  It carries the legend…"A new entertainment at parties.  Or, how to amuse and make a fool of yourself in public, without [having] a violent quarrel."
Between 1936 and 1940, Fry acquired a number  of the prints which had formed the basis of scholarly books on medicine and art by the late Eugen Holländer (1867-1932) Berlin surgeon, author, and collector. 


The rare "Portrait eines Cholera Praeservativ Mannes" [Portrait of a Man Protecting Himself from Cholera] c.1832 appeared as Figure 92 in Hollander's Die Karikatur und Satire in der Medizin (1921).  It illustrates and lists protective folk remedies, then concludes "he will be the first to get the cholera."
Fry stated that he was not interested in the developmental anomalies that formed the basis of Eugen Holländer's Wunder, Wundergeburt und Wundergestalt (1922).  However, these prints are part of the Fry Collection today.  They may have been acquired by John F. Fulton and added to the collection after its bequest in 1955.   No specific acquisition records are known for them.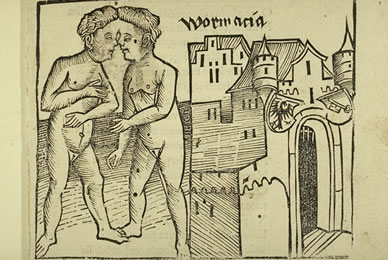 Conjoined Twins Born at Burstadt near Worms woodcut c.1495
Title page illustration of an incunabula pamphlet by Sebastian Brant.