What is deafness? From a medical perspective, deafness is an audiological condition that might be resolved through hearing aids or cochlear implants. But from another perspective, to be Deaf (often spelled with a capital "D") is to belong to a culture, with a shared language and identity. This exhibit explores how people have understood deaf communication and Deaf culture since the seventeenth century, with displays on the history of education, medical interventions, sign languages, and popular culture.
This exhibit runs Thursday, January 21, 2016 - Friday, April 1, 2016.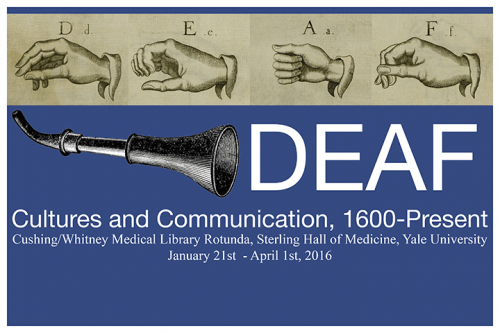 Additional events include:
An exhibit tour with curators Katherrine Healey and Caroline Lieffers, Doctoral Students, History of Science and Medicine
Friday, February 5th, 2016, at the Cushing/Whitney Medical Library, beginning at 12 noon.
New exhibit tour announced! 
Friday, February 19th at the Cushing/Whitney Medical Library, beginning at 12 noon.  Meet at the Circulation Desk.

A Screening of Children of a Lesser God
Wednesday, March 2nd, 2016, in Hope 210, beginning at 7PM.
A conversation with Laura Mauldin
Friday, March 4 at 2 p.m. in the Medical Historical Library (333 Cedar Street). Her talk is based on her new book Made to Hear: Cochlear Implants and Raising Deaf Children.