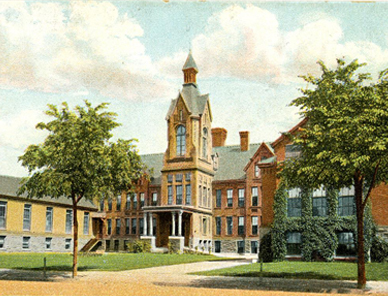 This collection of postcards from the Historical Library features medical institutions in Connecticut: general hospitals, private hospitals, psychiatric hospitals, sanatoria, and the Yale School of Medicine. Most are from the period 1900-1940.
Souvenir postcards became available in the 1890s and attained their heyday in the early decades of the twentieth century. Before 1907, writing space on postcards was limited to the white area on the side or below the image because the entire back had to be reserved for the address. Postcards were marketed by a variety of companies who hired photographers, artists, and colorists to produce them. In the early years, Germany had the best technology for printing the cards. While they could be mailed with a penny stamp, many cards were purchased for personal collections. Medical school and hospital buildings were often subjects for cards, in a way that they are not currently. Such medical institutions were matters of civic pride and tourist destinations for visitors to cities. The cards preserve images and an indication of color that may not exist elsewhere.
An image of the address side of the postcard is linked to the image record. The Notes field indicates by the word Color if the card is in color rather than black and white. The term Message indicates that the card was written upon. These terms can be used in keyword searches.
There are 66 digital images for this collection. There are more items from this collection that are not online. Please see the library's catalog record for further details.