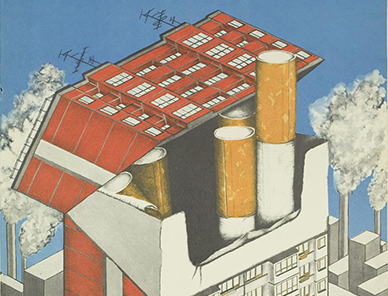 For well over a century, the tobacco industry has been selling smoke in America and abroad: marketing the very idea of smoking with the slick and calculated use of celebrity testimonials, promises of health benefits, memorable slogans, promotional sweepstakes, and more. Selling Smoke exhibits a wide array of tobacco advertising alongside anti-smoking campaign materials, drawn from the William Van Duyn collection of magazine advertisements, ephemera, articles, and pamphlets related to tobacco and cigarette-smoking. Additional anti-smoking posters from the Medical Historical Library's collections represent national and international efforts to eliminate smoking worldwide.
The exhibition explores the complicated history of tobacco advertising and anti-smoking campaigns.
Credits
This online exhibition was created in conjunction with physical exhibit originally on display in the Harvey Cushing/John Hay Whitney Medical Library, Yale University. This project has been funded in whole or in part with federal funds from the National Library of Medicine, National Institutes of Health, under Contract No. HHSN276201100010C with the University of Massachusetts, Worcester.