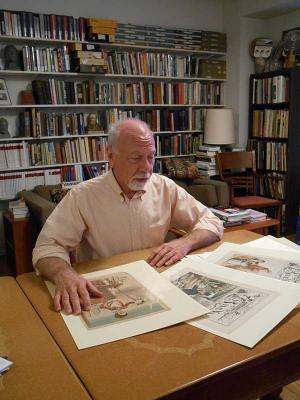 (Post authored by Melissa Grafe)
The Medical Historical Library announces a new gift encompassing visual materials depicting medical practice, public health, disease, and more from the collection of Bert Hansen, Ph.D.
Over a period of thirty years, Bert Hansen actively collected original materials to document and exhibit the visual record of public health and medical practice and research in America, primarily in graphics published in popular media.  Hansen has been teaching history at Baruch College of CUNY since 1994. He holds degrees in chemistry (Columbia) and history of science (Princeton).  Prof. Hansen has written on obstetrics teaching in the 1860s, the new medical categorization of homosexuals in the 1890s, the advocacy for public health and sanitation in political cartoons from 1860 to 1900, and the popularity of medical history heroes in children's comic books.  His book, Picturing Medical Progress from Pasteur to Polio: A History of Mass Media Images and Popular Attitudes in America (Rutgers University Press, 2009), was honored with an award from the Popular Culture Association and named to the "2010 Best of the Best" for Public and Secondary School Libraries by the American Library Association.
Recently, Hansen began transferring his collection to the Medical Historical Library.  The library was given over 600 prints, including chromolithographs and wood engravings from 19th-century magazines like Harper's Weekly, Frank Leslie's, Puck, and Judge.  Hansen also donated 20th-century popular magazines such as Life and Time, which reported on medical issues.  LIFE magazine published serious photographic essays about medical subjects on a regular basis, at least 1100 of them in its 1900 weekly issues.  Because few libraries have preserved this magazine, Hansen collected several hundred issues with medical stories to document the way the mid-20th century public was taken into operating room, the laboratory, and the mental asylum.
For Hansen, the central research question animating the collection was:  Just what did medicine look like to the average person (not to the insiders within the profession)?  All the images were collected to answer that question.  In addition to news sketches in magazines like Harper's Weekly, political cartoons turned out to be a remarkable source of visual evidence.  Medicine itself was rarely the object of the caricature, but when a president is shown as a doctor looking through a microscope or amputating a limb, or portrayed as a midwife with forceps or a nurse tending to a patient in bed, we get a sense of stereotypes and popular expectations.  Despite comic exaggerations, these images had to be sufficiently true-to-life for the political message to be understood.
Hansen has also donated a small collection of manuscripts, which includes diaries, notebooks, casebooks, and scrapbooks by medical practitioners or on medical themes.  Future parts of the gift will include hundreds of examples of ephemera, from agencies such as health departments and corporations like Met Life, all of which used graphics to convey their messages to the public.  There will also be publicity materials for radio broadcasts and Hollywood films about physicians.  The collection also includes about two dozen highly illustrated juvenile biographies of physicians, and over 100 medically themed comic books.  In addition to the unique original materials, Hansen's collection contains about ninety 3-ring binders containing photocopies of relevant images (both those in the collection and others that are not).  All the items in the binders and in the collection of originals are recorded in a database with over 4500 entries, which can be searched by keyword, publication, genre, medium, artist, date, etc., and will be made available at a future date.
For questions concerning the collection, please contact Melissa Grafe, Ph.D, John R. Bumstead Librarian for Medical History: melissa.grafe@yale.edu