Gracie will visit the library on Tuesdays from noon - 2:00 pm, starting on August 21, 2018.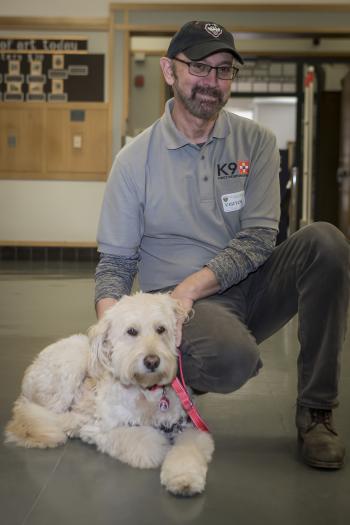 Gracie is a 9 years old Goldendoodle (part Golden Retriever and Poodle) and is a member of Pet Partners Therapy Animal Program and K9 First Responders (K9FR), a Critical Incident Mental Health Support (CIMHS) organization. 
Gracie and her handler, Lou Siegel will be at the Library most Tuesdays from noon to 2:00 pm.  Gracie's therapy status is rated "Complex" which means she can handle noisy and populated areas.
Melanie Zheng, Yale School of Medicine, class of 2021 and student library representative, said, "My classmates and I were all so excited to hear about Gracie's visits. Having a therapy dog come to visit regularly has been such a good way to de-stress in the middle of busy schedules. She is such a sweet dog, and we really appreciate the library for hosting her!"