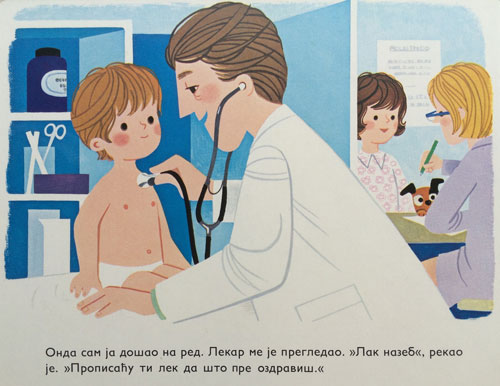 Image from Nada Iveljić, We go to the doctor. Zagreb, 1974.
This exhibit, on display for a final week in the Medical Historical Library, features books and other publications written for children about medical topics. Story books, pamphlets, coloring books, and comic books are published by various groups as a way to teach children about illness, medical care, and health topics at an age-appropriate level.  The exhibit was organized by Charlotte Abney, graduate student in the Program in the History of Science and Medicine.
For young children, picture books introduce the ideas of doctors, dentists, and appointments by telling gentle stories of normal or routine treatment by medical professionals. This collection includes picture books from a number of different countries. Each of these books tells a reassuring story of a young child or cartoon protagonist who needs to visit a doctor, hospital, or dentist and is well cared for by medical professionals.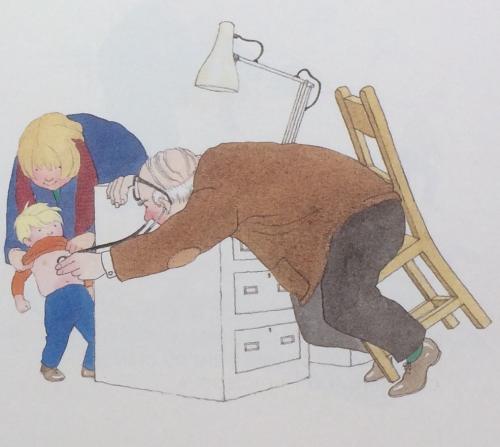 Image from Helen Oxenbury, La visite chez le docteur. Paris, 1983. 
Books and comics for older children, often published by health care companies and government agencies, teach lessons in staying healthy, personal hygiene, and the use of medical devices. This display includes a coloring book about pharmacies published by a pharmaceutical company; books about drug abuse by a doctor and the United States Drug Enforcement Agency, respectively; and two comic books, one in which Dennis the Menace learns about household poisons and one in which superheroes save the planet while teaching kids how to avoid asthma attacks.
The materials on display here are part of a collection of printed material in the history of medicine recently donated by William Helfand.

Children's books from a recent donation by William Helfand
Helfand has been a collector of prints since the 1950s, and medical ephemera since 1969. In 1983, Helfand exhibited materials related to the "American Medical Show" in the rotunda of the Cushing/Whitney Medical Library. He has given multiple gifts of posters, prints, books, and patent medicine advertising in the past fifteen years, and he continues to support the library through scholarship, helping to identify medical bookplates in the collection.
Over the past fifteen years, Yale libraries have received over a thousand titles and numerous other items in donations from from Helfand, his daughter, Jessica Helfand '82, '89 MFA, Senior Critic in Graphic Design at the Yale School of Art, and her late husband William Drenttel, Senior Faculty Fellow and Social Enterprise Fellow at the Yale School of Management.