(by Katie Hart)
Since she joined the library in 1965, Jeannette Ponzio has witnessed the Cushing/Whitney Medical Library evolve significantly. Interim Director, John Gallagher, sat with Jeannette, the library's longest serving employee, for a conversation about her many years of exceptional service.
JG:       Jeannette, tell me about when you first joined the Medical Library. What was it like then? What was your first job?
JP:        Before coming to Yale University, I worked as a bookkeeper at the American Supply Company after receiving my bookkeeping certificate from New Haven's Stone Business College. I began working at Yale in October of 1965. My first job was as a shelver in the Medical Library. Back then books and journals were all that there was, so my days were very busy re-shelving materials in the stacks and helping patrons to find books and articles. The stacks weren't as large then as they became after the major renovation in the 1990's. The Circulation Department back then was a part of the Reference Department and the Circulation Desk just off the rotunda where the entrance to the Information Room is now.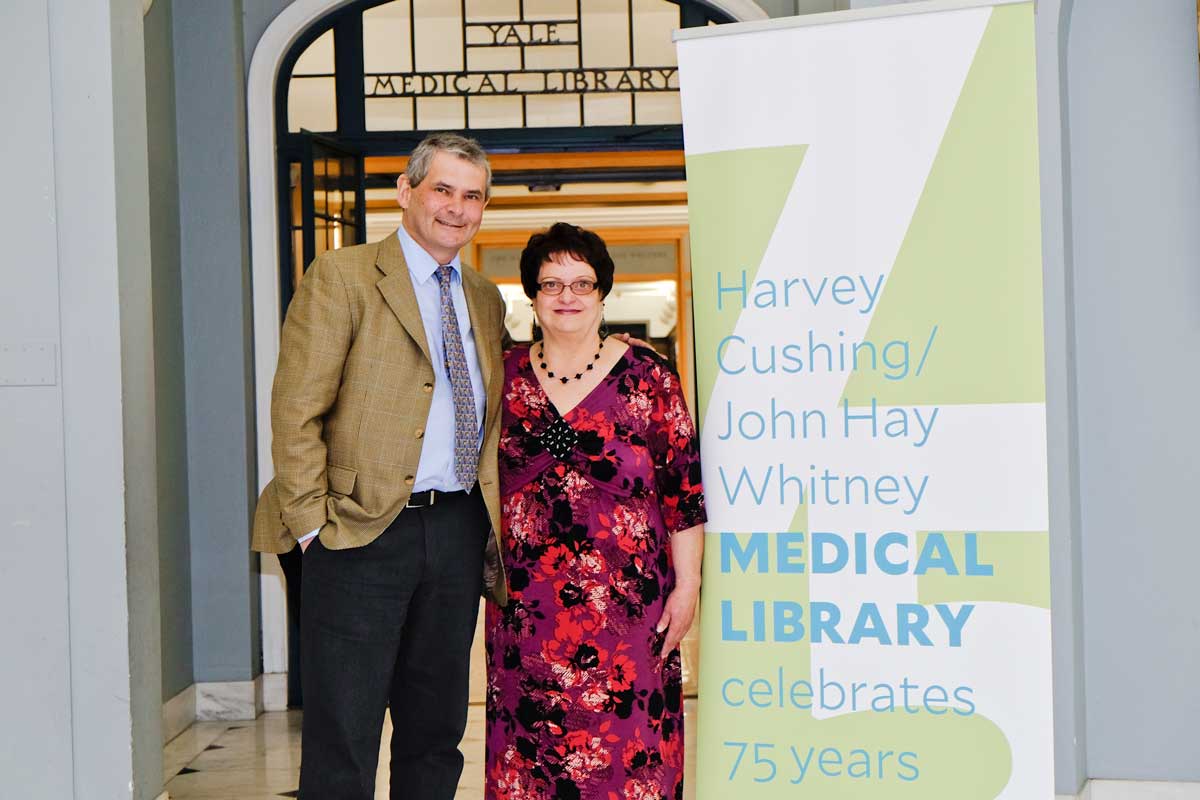 John Gallagher & Jeannette Ponzio

JG:       What was your next job?
JP:        In 1971 Stanley Truelson, who was the Director of the Library then, created a part-time evening position for me in Circulation. My husband and I were expecting our first child, and it was important to me to be able to spend the days with her. Times were very different then and Stanley even permitted me to train my husband to do my job while I was out on maternity leave. It worked out great for us. I enjoyed working nights and continued to do so for the next 11 years.
JG:       Over the last 50 years you have seen so many changes. What are some of the most significant ways that the library has changed from your perspective?
JP:        So many things have changed! I don't know where to begin! The switch from GEAC to Orbis for the library catalog was huge. Also significant was the switch from using photocopy auditrons to copy cards in the '80s was another radical change. Finally, now that our users can access so many of the resources they need though our website has really made it easier for them to find the information they need. I can't imagine what the next major change will be, but the library has always been good at anticipating what our users want. There's always something fun and new.
JG:       Tell me about your current responsibilities. How did you find yourself in Collection Development and Management?
JP:        After working as the acting head of Circulation in the mid '80s, I made the switch from the frontlines of Circulation to supporting back-office operations in 1990, and I have had numerous Technical Services responsibilities since then. Most of my time has been spent on the acquisitions side, helping purchase materials for our patrons and coordinating the work of 3 other people as lead person. Most recently however I have become more involved in the World Health Organization's HINARI initiative, updating our holdings in the National Library of Medicine's DOCLINE database, and working with the Access & Delivery Service's staff to prepare and process print journals and books for transfer to the Library Shelving Facility.
JG:       What has been the best thing about working here for so long?
JP:        Undoubtedly it's the people. It's been wonderful over the years to work with so many lovely and dedicated people. With all the changes there's always someone there to help and train you. It has been great, and a wonderful place to work!
JG:       Thank you Jeannette. On behalf of the Library and Yale we are so grateful for all the wonderful contributions you have made, and for your 50 years of dedicated service!