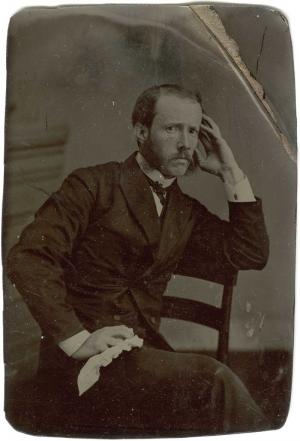 (by Deborah Streahle, doctoral student in the Program in the History of Medicine and Science)
The Medical Historical Library is pleased to announce a gift of the papers of 19th century physician, obstetrician, and gynecologist Dr. James Henry Etheridge.  The papers are a donation from the estate of Margaret Grant Young, 2017.
Dr. Etheridge (1844-1899) was a distinguished Chicago physician in the late 19th-century. He graduated from Rush Medical College in 1869 and, after a brief sojourn in Europe, taught there for the rest of his life. As a professor of Materia Medica, Medical Jurisprudence, and Gynecology, Dr. Etheridge was passionate about medical education and highly regarded by his peers and students. Reflecting his dedication as an alumnus, his papers feature commencement programs, newsletters, and newspaper clippings related to Rush Medical College.
In addition to teaching, Dr. Etheridge practiced as a general physician and later specialized in gynecology. He advocated for this model of medical education for his students, arguing that a specialist must work from a solid foundation in general practice lest he become "a lamentably narrow physician."[1] Dr. Etheridge's papers reflect his expertise with reprints of his many lectures and journal articles on gynecology, as well as casebooks and ledgers recording his patient interactions in private practice.
Beyond his local responsibilities, Etheridge also traveled to attend the meetings of several professional organizations, among them the American Medical Association and the International Congress of Obstetricians and Gynecologists. Included in his papers are conference ephemera like invitations, welcome booklets, banquet menus, and travel guides.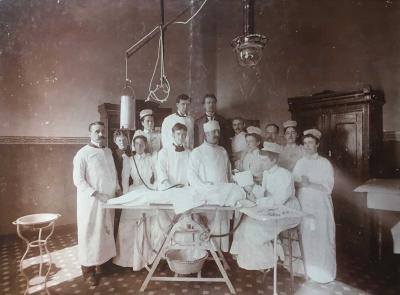 After his sudden death from "aneurism of the heart" in 1899, his personal physician remarked, "He was a man of commanding presence and polish and popular with all whom he came in contact." Upon hearing the news, his students at Rush adopted a set of formal resolutions in his honor. The resolutions officially memorialized his death and reflected his esteemed place at the college.
Dr. Etheridge was survived by his wife, Harriet Elizabeth Powers, and their two daughters. Five letter files contain his and his family's extensive personal and professional correspondence from the 1850s-1920s, as well as a beautiful baby book. As a whole, the acquisition offers insight into the life and afterlife of a scholarly physician practicing in the late-19th century.
Please view a small exhibition featuring Etheridge's papers in the Medical Historical Library, curated by Deborah Streahle, doctoral student in the Program in the History of Medicine and Science.
---
[1] J.H. Etheridge, "The Gynecologist as Specialist," Chicago Medical Recorder, 1898.