By Michelle Peralta, Resident Archivist for Yale Special Collections
Yale Class of 1974 Alumna
Throughout the 2019-2020 academic year, Yale University is celebrating fifty years of co-education with many events and exhibitions that demonstrate the magnitude of contributions of Yale's women graduates in all areas of life, including politics, sports, academia, and medicine. Thus, it feels particularly fitting that the latest archival collection available at the Medical Historical Library, Ms Coll 64 The Martha H. Roper Papers, was created by an alumna of one of Yale's earliest co-education classes. The collection contains research, publications, and subject files that document the professional career of Martha H. Roper, Yale class of 1974, and her expertise in international epidemiology. A global health authority on maternal and neonatal tetanus, Roper worked for the World Health Organization, the Centers for Disease Control and Prevention, and the United Nations Children's Fund (UNICEF).  
A Lifetime of Service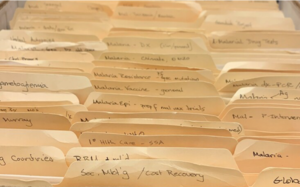 Martha Roper (known as Marty to most) dedicated her life to serving the underserved. A colleague wrote that Roper "fought for the uplift of those who were poor, marginalized and whose voices are rarely heard. She loved the human moments that come with being in the field, which keep us honest and true to purpose." Roper's service brought her across the world, traveling often to remote locations, and sometimes working in challenging conditions, but she remained committed to her cause of providing health care solutions to the most disadvantaged. This commitment was apparent early on in Roper's career, when she worked as a research assistant at Yale Medical Center providing support for women experiencing domestic abuse in New Haven and contributing to research on battering and domestic abuse of women by their partners. Afterwards, Roper moved to the West coast and eventually worked as the medical director of Highland General Hospital's Acute Care Clinic in Oakland, California where she was instrumental in providing support and resources for people dealing with substance abuse, alcoholism, and pelvic infections. Roper continued to work for public health almost until her untimely passing from lung cancer in 2016. 
Meticulous Attention to Detail
Roper was known for her attention to detail, and her papers arrived at the Medical Historical Library in records cartons filled with folders arranged by topic and labeled with neat handwriting. The collection includes several notebooks filled with research notes and data, but one journal from Roper's early career labeled "Die Naturphilosophie," containing a few entries about Roper's relocation to Alaska to temporarily fill in for a local doctor in his medical clinic, provides a glimpse of Roper's personality beyond the known medical professional. 
"Enough for today. Tomorrow the adventure truly begins. Tonight, I'll retire with a book, my usual evening occupation, and thereby bridge my familiar past and unfamiliar future." 
An Emerging Field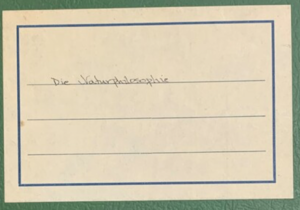 Martha Roper was an early adopter of the Global Positioning System (GPS) and Geographic Information Systems (GIS) and her papers document howthese new technologies became important tools for the field of epidemiology in the 1990s. The collection includes workshop materials, maps, and her presentation: "Spatial Patterns of Malaria Case Distribution in Padre Cocha, Peru" from the third ever conference on Geographic Information Systems (GIS) in Public Health in 1998.
Ms Coll 64 The Martha H. Roper Papers is open and available for research at the Harvey Cushing / John Hay Whitney Medical Historical Library at Yale University. A description and listing of collection contents is available at Archives at Yale.