Curated by Katherine Isham
The Medical Historical Library announces a new exhibition in our reading room: "The Enduring Appeal of 'The Doctor'" featuring recent gifts from medical historian Bert Hansen, Ph.D. "The Doctor," painted by Sir Luke Fildes in 1891, has been a popular and influential image in the history of medicine for more than a century. The painting of a Victorian doctor attending a sick child in a poor workman's cottage held great appeal for the general public, who responded to the sympathetic portrayal. Members of the medical profession embraced the painting as a depiction of the ideal physician firmly rooted in the humanitarian traditions of medicine and not defined by the pristine clinical coldness of laboratory science which was redefining modern medicine at the end of the 19th century. By 1900, over one million prints of "The Doctor" were sold in the United States alone.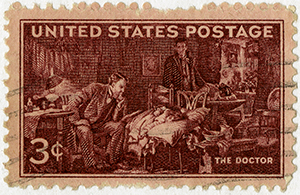 In the 20th century, the enduring charm of "The Doctor" was employed in advertising, merchandise, political campaigns, and publishing, making it one of the most recognized images in modern medical history. Some of the most famous uses of "The Doctor" include a life-size three-dimensional exhibition at the 1933 Chicago World's Fair, a United States postage stamp, and the image for an anti-nationalized medicine lobbying campaign by the American Medical Association. The exhibition displays a variety of prints and objects dating from 1907 to 2009.