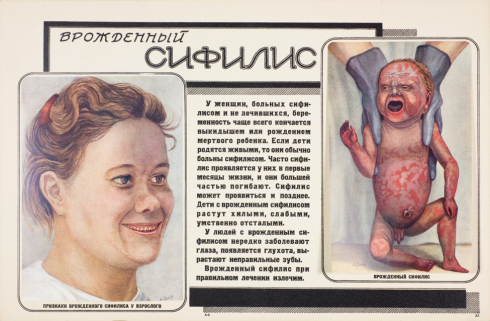 "The Soviet government is waging a relentless battle against venereal diseases…Participation in this battle is everyone's duty…."
In commemoration of the centennial of the Russian Revolution, the Cushing/Whitney Medical Library joins the Yale University Libraries--Beinecke, CSSI, Gilmore Music Library, Haas Arts Library, and Manuscripts and Archives in sharing works from our collections pertaining to this era and event. 
Join us to view "A Revolutionary Public Health Campaign," 4 p.m. to 6 p.m. in the Historical Library, Wednesday, September 27, 2017.
The Cushing/Whitney Medical Library will show a very rare portfolio of posters, "Venereal Diseases and the Fight Against Them,  1928, created by the People's Commissariat on Health." Designed for exhibition and use in public lectures, the portfolio was distributed throughout the Russian Soviet Federative Socialist Republic.