(by Katie Hart)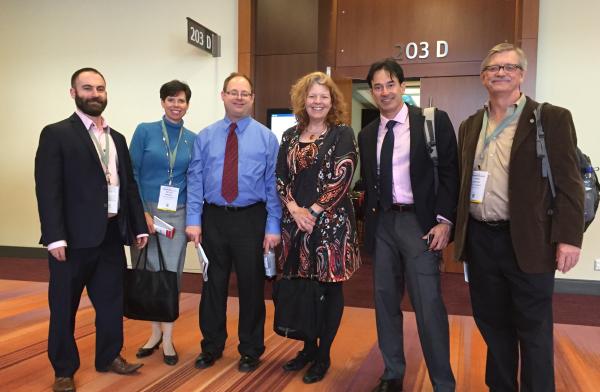 Librarians attending the Medical Library Association Annual meeting in May.  Left to right:  Andy Hickner, Denise Hersey, Nathan Rupp, Holly Grossetta Nardini, Rolando Garcia Milian, Mark Gentry. 
You're invited to a SCOPA sponsored Lunch & Learn at the Cushing/Whitney Medical Library on June 8th at 1pm. Join us to hear recent presentations given at the Medical Library Association annual conference. Please feel free to bring a lunch or perhaps make a stop at the famous medical school carts. The four presentations we will be reprising for you are:
Design, Implementation, and Evaluation of a Medical Library Program to Support Biomedical Research in the 'Omics Era – Rolando Garcia-Milian (presenting), Janis Glover, and John Gallagher.
This presentation discusses the strategies used to design and implement our end-user bioinformatics support program. It also provides results on training, resources, tools, and services available to Yale biomedical researchers. 
Putting the Pieces Together: Finding a Point-of-Care Solution for an Academic Medical Center – Denise Hersey (presenting), Mark Gentry, Janene Batten, Nathan Rupp, and Holly Grossetta Nardini.
The Cushing/Whitney Medical Library assembled a task force composed of librarians, physicians, nurses, and hospital IT staff to compare and evaluate DynaMed Plus and UpToDate – two resources used at the beside to provide clinical care – and then recommend which product best meets the needs of our associated hospitals, informing the subscription renewal process for 2016-2017.
The Yale Medical Subject Headings (MeSH) Analyzer: A New Tool for Search Refinement – Holly Grossetta Nardini and Lei Wang.
The presentation describes our MeSH analysis methodology, a technique that helps craft more comprehensive searches, and the use of a new tool that saves time by doing this analysis automatically. The Yale MeSH Analyzer helps refine searches, particularly those where indexing is challenging, by creating a quick, scannable grid of MeSH terms for easy review.
Using Omeka for Online Exhibits – Andy Hickner (presenting), Melissa Grafe, Kerri Sancomb, and Francesca Livermore (5 minute lightning talk).
Omeka is a web publishing platform for online exhibitions. Andy will describe how Yale University Libraries conducted a pilot of Omeka for the Libraries' online exhibition needs and share lessons from our experience.
See you there!