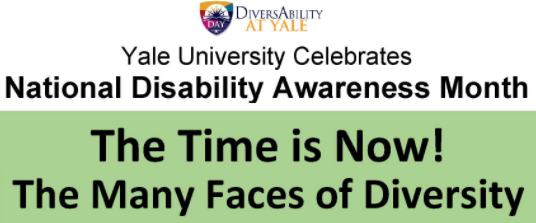 Join us on October 17th, 12:00 - 1:00 pm in the Medical Historical Library (Sterling Hall of Medicine, L-wing, 333 Cedar Street) for a lunchtime workshop entitled, "The Time is Now! The Many Faces of Disability." The talk will be led by Dr. Cindy Miller, MD, Department of Radiology. Dr. Miller's workshop will focus on the relationship between disability and diversity, the definition of disability, the diversity within disability, and disability as a "process." Additionally, the discussion will include what Yale is doing well with respect to disability, and directions in which Yale could continue to move for improvement.
The workshop is sponsored by DiversAbility at Yale (DAY) Affinity Group and in celebration of National Disability Awareness Month 
This event is open to all members of the Yale Community.
RSVP: https://goo.gl/vNBVvJ