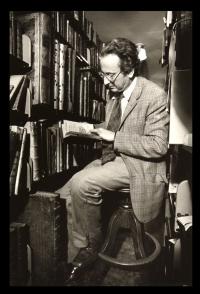 The Medical Historical Library of the Harvey Cushing/John Hay Whitney Medical Library at Yale University is pleased to announce its tenth annual Research Travel Award for use of the Historical Library.
The Ferenc Gyorgyey Research Travel Grant is available to historians, medical practitioners, and other researchers who wish to use the collections of the Harvey Cushing/John Hay Whitney Medical Library. In any given year the award is up to $1,500 for one week of research.  Funds may be used for transportation, housing, food, and photographic reproductions. The award is limited to residents of the United States and Canada. 
The Medical Historical Library holds one of the country's largest collections of rare medical books, journals, prints, photographs, and pamphlets. It was founded in 1941 by the donations of the extensive collections of Harvey Cushing, John F. Fulton, and Arnold C. Klebs. Special strengths are the works of Hippocrates, Galen, Vesalius, Boyle, Harvey, Culpeper, Haller, Priestley, and S. Weir Mitchell, and works on anatomy, anesthesia, and smallpox inoculation and vaccination. The Library owns over fifty medieval and renaissance manuscripts, Arabic and Persian manuscripts, and over 300 medical incunabula.  The notable Clements C. Fry Collection of Prints and Drawings has over 2,500 fine prints, drawings, and posters from the 15th century to the present on medical subjects.  Although the Historical Library does not house the official archives of the Medical School, it does own a number of manuscript collections, most notably the Peter Parker Collection, papers of Harvey Cushing, and the John Fulton diaries and notebooks. The Library also owns an extensive Smoking and tobacco advertising collection, and smaller collections of patent medicine ephemera.
The award honors Ferenc A. Gyorgyey, former Historical Librarian. Ferenc A. Gyorgyey was born in Hungary and immigrated to the United States at the time of the Hungarian Revolution.  He received his library degree at Southern Connecticut State University in 1961 and a master's degree in history from Yale in 1967.  In 1962 he was hired by Madeline Stanton (then Librarian of the Yale Medical Historical Collections) as a cataloger for the Historical Library, and was named Historical Librarian when Miss Stanton retired in 1968.  Known for his graciousness, devotion to patrons, a thorough knowledge of the collection, and a remarkable sense of humor, he held this position for 26 years until his retirement in 1994. Ferenc Gyorgyey passed away in 2014.
Applicants for the 2017-2018 cycle will need to apply through our fellowship site, and upload a curriculum vitae and a project description, including the relevance of the Medical Historical Library collections to the project, as well as provide two references attesting to the particular project. Preference will be given to applicants beyond commuting distance to the Historical Library.  This award is for use of Medical Historical special collections and is not intended for primary use of special collections in other libraries at Yale.  Applications are due by Monday, MAY 1st, 2017.  They will be considered by a committee and the candidates will be informed by JUNE 2nd, 2017.  Winners may be asked to do a blog post discussing their research.
The application period is now open!  Please apply online at: https://yale.communityforce.com/Funds/Search.aspx

Requests for further information should be sent to:
Melissa Grafe, Ph.D.
Head of the Medical Historical Library
John R. Bumstead Librarian for Medical History
Harvey Cushing/John Hay Whitney Medical Library
Yale University
P.O. Box 208014
New Haven, CT 06520-8014
Telephone: 203- 785-4354
Fax: 203-785-5636
E-mail: melissa.grafe@yale.edu