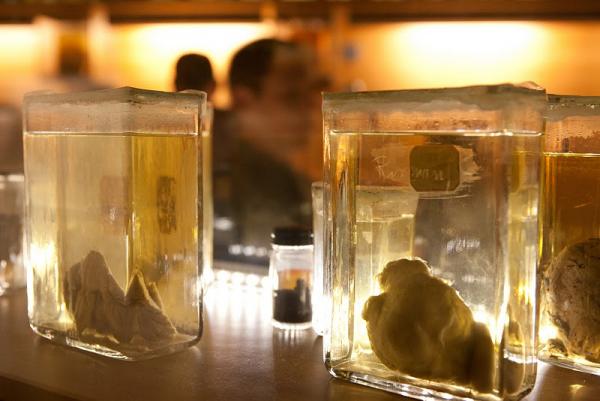 Harvey Cushing, the pioneer and father of neurosurgery, was born on April 8, 1869 in Cleveland, Ohio. He graduated from Yale University in 1891, studied medicine at Harvard Medical School and received his medical degree in 1895. In 1896, he moved to Johns Hopkins Hospital where he trained to become a surgeon under the watchful eye of William S. Halsted, the father of American surgery. By 1899 Cushing became interested in surgery of the nervous system and began his career in neurosurgery. During his tenure at Johns Hopkins, there were countless discoveries in the field of neuroscience.
In 1913, Cushing relocated to Harvard as the surgeon-in-chief at the new Peter Bent Brigham Hospital. Cushing continued to operate on several hundred patients a year with remarkable results and in addition he was relentless in his recording of patient histories and continued his careful attention to the details and documentation of each surgery.
According to Cohen & Gadal,
"For Cushing to achieve the dream of establishing and spreading his specialty through his disciples, he needed to first prove the safety of his methods. His patients therefore became the center of his career and their stories, which he carefully recorded, became the diary of neurological surgery in its infancy."
In 1932 Harvey Cushing retired and in 1933 he agreed to join the staff at Yale University, his alma mater, as the Sterling Professor of Medicine in Neurology. Although his bibliophilic enthusiasm never left him throughout his work at Harvard, it was at Yale at the age of 64 that this enthusiasm was revitalized following in his father's footsteps; Henry Kirke Cushing was a fervent bibliophile as well.
Cushing Brain Tumor Registry
Cushing, even as a young man, documented his life in his diaries and letters and often illustrated them with watercolors, cartoons, and sketches of characters and places. This propensity to document carried through his entire career as a neurosurgeon. Cushing meticulously recorded and documented each patient story.
One incident in particular drove Cushing to begin to retain all specimens removed during operations or autopsy. Cushing would routinely examine each and every tissue specimen but in 1902, while at Johns Hopkins, the Pathology Department misplaced one of the specimens. This was not acceptable to Cushing and it was at this time that he decided he would retain specimens for further study. So it was this incident that started it all.
The Cushing Brain Tumor registry, as it is known today, is an immense archival collection of over 2,200 case studies which includes human whole brain specimens, tumor specimens, microscopic slides, notes, journal excerpts and over 15,000 photographic negatives dating from the late 1800's to 1936. The registry itself is a treasure; a unique resource that documents the history of neurological medicine from its beginning.
Even though Harvey Cushing decided to retire to Yale and New Haven, he presumed that his collection would stay in Boston. But due to unforeseen circumstances, Cushing decided to move the specimens to Yale in 1934.
It was during the years 1934 to 1938, Cushing and Dr. Louise Eisenhardt worked diligently to gather complete photographic copies of each and every history for which he had a pathological specimen and complete the final part of his trilogy on intracranial tumor growths. After the book was finally published, Cushing turned his interests to the plans to build the Yale Medical Library. He insisted that a separate building be constructed for use by faculty and students of the medical school and hospital. He used his rare book collection and encouraged his colleagues John F. Fulton and Arnold C. Klebs to join forces by donating their rare book collections to Yale to begin a rare book collection in the new library. But by 1938 it became clear the plans needed to be revised to add on a Y-shaped wing to the existing building instead to save on building costs.
Harvey Cushing suffered a myocardial infarction and died on October 7, 1939 just days after he received word that the funds had be allocated to build the medical Library. The Yale Medical Library was completed and dedicated on June 15, 1941. In 1939, after Cushing's death, the Brain Tumor Registry received endowment funds with a gift from Howard M. Hannah of Cleveland to Yale which meant the registry would stay here at Yale. Dr. Eisenhardt curated the collection for the next twenty years. The collection was housed in the Brady Museum sub-basement until 1967. When Dr. Elias Manuelidis took over curation, space became an issue as well as waning use of the collection, it became necessary to find a new location.
It wasn't until 1979 that a new space was found in the sub-basement of the student dormitory, the ES Harkness Hall. The entire collection was moved with the help of faculty and students.
In the early 1990's the collection was discovered by some adventurous medical students who had to sneak through dark crawl spaces to arrive at the "brain" room. Students would then sign a white board and become members of the "Brain Society" to show they too make the trek to see the brains.
In February 1994 as interest in the collection resurged, Dr. Albert W. Diddle gave a generous donation. He stipulated his donation be given to a student committed to a project that would directly benefit the institution. Dr. Diddle's donation along with additional funding from the NIH and the James G. Hirsch, M.D. Endowed Medical Student Research Fellowship provided funds for a year of research to complete a thesis. The recipient of this award was Christopher John Wahl, a Yale medical student, who was interested in pursuing his thesis on the collection. He completed his thesis "The Harvey Cushing Brain Tumor Registry: changing scientific and philosophic paradigms and the study and preservation of archives" and received his M.D. in 1996. Dr. Christopher J. Wahl, now an assistant professor of orthopedics and sports medicine at the University of Washington, interest in Cushing continues to this day; his most current article is Wahl CJ, Tubbs RS, Spencer DD, Cohen-Gadol AA "Harvey Cushing as a book collector, bibliophile, and archivist: the precedence for the genesis of the Brain Tumor Registry. Historical vignette." Journal of neurosurgery 2009 Nov; 111; 5; 1091-5
After considering several new locations for the Cushing collection, in the fall of 2008 Dr. Dennis Spencer, Chairman of the Section of Neurosurgery and R. Kenny Marone, the Library Director agreed the space in the Library's stacks would be a perfect spot for the Brain Tumor Registry. As soon as the oversize books were transferred to a new location, the room was ready for demolition in July 2009. A project team worked to transform the room; although the team (Dr. Dennis Spencer, John Gallagher (Library), Terry Dagradi (Photo+Design), Sarah Burge (Preservation Librarian), Turner Brooks (Architect) had their own set of expectations, the common goal was to provide the visitor with a unique experience showing Cushing as a caring surgeon, author, collector and bibliophile.
In preparation for the move each specimen was examined carefully and cleaned by a forensic scientist, Nicole St. Pierre. Housing the specimens in the original one gallon jars, each specimen was removed and the jar filled with new formalin and placed in large white buckets for transportation.
As we say, the rest is history. After the brain specimens were in place, the rest of the collection was brought to the room. Taking only one year for this total transformation, the old oversize books stacks opened as the new Cushing Center on June 5, 2010.