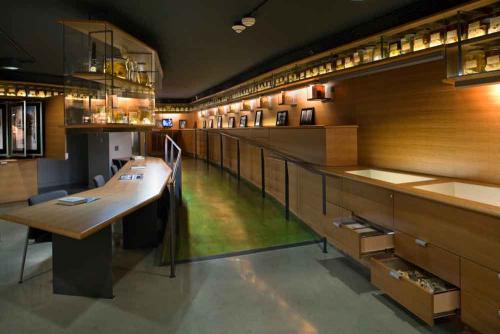 Anyone interested in seeing this unique collection is invited to visit the Cushing Center. To enter the Center an active Yale Proximity ID Card is required. Visitors without an active Yale Proximity ID Card, may register as visitors at the Medical Library's Circulation Desk. Library staff will provide visitors with a Cushing Center Proxy Card that will permit them to enter the space.
The center can be reserved for special tours and teleconferences.  If you are travelling to visit the center, please call the library at 203-785-5354 to check its availability.
Hours
Mon – Fri: 8:00 AM – 8:00 PM
Saturday: 10:00 AM – 7:00 PM
Sunday: 9:30 AM – 8:00 PM
Location
The Cushing Center is located in the Cushing/Whitney Medical Library in the sub-basement (2 floors down from main level).
Exploring the Collection
There is much to see and discover in the Cushing Center so we encourage you to explore. In addition to the specimens on display, take time to view the videos, browse the books, open the drawers beneath the exhibit cases, light up the vitrines to get a better view of some of Dr. Cushing's most prized books and manuscripts, and fold out the large poster display doors to view reproductions of Cushing's own artwork, and more.
Standing Tours
Each week we offer 5 tours:
Thursday at 2:00 PM
Friday at 11:00 AM and 2:00 PM
Saturday at 11:00 AM and 3:00 PM
There is no need to sign up, just meet at the library entrance; however, please check the Yale School of Medicine calendar for the occasional cancellation. The tour lasts about 40 minutes.
Group Tours
For group tours, please fill out this request form.
The Cushing Center Conference Room
The conference room may be used by members of the Medical Center community. The room is equipped with a 75" 4K display, a PC computer with high-speed internet access, a ceiling-mounted echo-canceling microphone, and a high-resolution conference camera. Two sets of HDMI, VGA, and USB extension ports are available on the table. Access to the PC requres an active Yale University NetID. The room comfortably seats 20 people, with 12 sitting around the center table. 
Reservations
This room may be booked at least 2 business days in advance using the "CWML Special Reservation Request" template on http://rrs.yale.edu. While there is no charge to reserve the space a COA will be required. Please provide a facilities work request number for setup/cleanup and a ServiceNow request number for AV support only if you will be using these services.
Security
Please be aware that security cameras are in use in the Cushing Center.