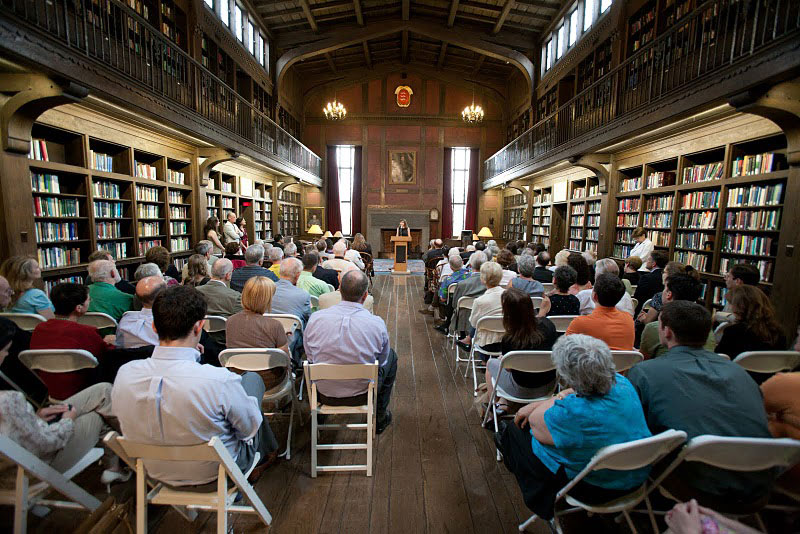 The Associates of the Cushing/Whitney Medical Library are friends of the library who through membership and other contributions are committed to assist the Medical Library in its mission of serving the information needs of Yale students, faculty and staff. Funds raised by Associates represent unallocated money that can be used at the Librarian's discretion to support various projects. Membership in the Associates is open to any contributor of a gift specifically designated to the Associates.
A Board of Trustees governs the affairs of the Associates guided by the Constitution and Bylaws of the Associates. The board consists of 16 trustees in 4 classes who are current Associates members, as well as a number of honorary trustees.
The Associates host an annual lecture in the Historical Library in every April. Past speakers include Nobel Laureates, writers, professors and Surgeons General and speakers have lectured on a wide variety of topics relating to medicine.
Becoming an Associate is an affordable way to support the Library. Contributions to the Cushing/Whitney Medical Library benefit the scholars, researchers, students and the community in many ways:
Rapid access to the biomedical literature, state-of-art computers, and cutting-edge software
Creating innovative programs and resources to fulfill unique information needs
Preserving one of the best History of Medicine collections in the world. With a collection of over 100,000 printed volumes from 325 incunabula (books before 1500) to early 20th century, manuscripts, prints and photographs, and unique artifacts, the task of preservation becomes critical
Maintaining a commitment to fostering partnerships in the community
In the past the Library Associates have funded:
Creation of a digital imaging center
Purchasing rare books and manuscripts, such as the 14th Century Paneth Codex
Creating the online exhibit of the history of the Yale School of Medicine
Buying recent books on the history of medicine and humanities
Digitization of the entire Fry Print Collection
Yale's first electronic version of Medline
Multimedia projector to facilitate the teaching of electronic resources
The quality, richness and diversity of our collections will be preserved and improved with the continued support of the Library Associates. All memberships and gifts help to enrich our collections and improve service to our community contributing to the teaching, research and patient care of the medical center.
More information on how to become a member.