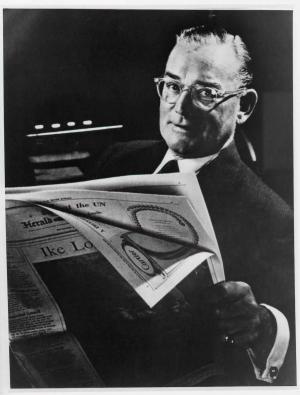 John Hay Whitney, a 1926 graduate of Yale College, served as United States Ambassador to Great Britain from 1957 to 1961. On his return from England, Mr. Whitney became owner and publisher of the New York Herald Tribune and Chairman of its Paris-based newspaper, The International Herald Tribune.
Mr. Whitney's philanthropy helped shape higher education in the United States. In addition to substantial gifts to Yale, through the John Hay Whitney Foundation, which he established in 1949, Mr. Whitney focused on the field of education and on supporting individuals from minority groups who sought to make educational, social, and economic changes in their communities.
Mr. Whitney served as a Fellow of the Yale Corporation from 1955 to 1970 and as a Senior Fellow from 1970 until 1973. In 1977, the John Hay Whitney Professorship in the Humanities at Yale was established and in 1981 a new faculty center was designated the Whitney Humanities Center. Mr. Whitney died on February 8, 1982. In 1985, Mrs. Betsey Cushing Whitney presented the University with a generous gift to expand and renovate the medical library.