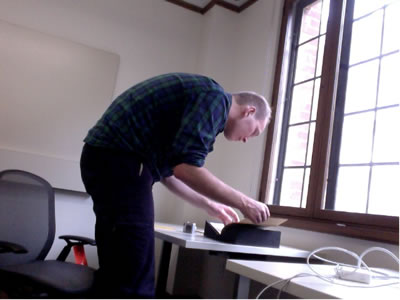 After a complete remodeling, the Medical Historical Library's office and new secure reading room is officially open.  Our new public hours will be from 10-noon, and 1-4:30, Monday through Friday.
This project caps a larger Historical Library renovation, beginning several years ago with an overhaul of the Medical Historical locked stacks and work areas.  New environmental controls and security measures, movable stacks, and new work spaces including a preservation lab and photography area, were included in the first portion of the project, allowing the Library to properly store, protect, and work with the collections. The renovation of the Medical Historical Library office and the creation of a new secure reading room next to the office continues this work, with new security and environmental controls and a redesigned office.
The Medical Library wishes to thank the School of Medicine, Christie Day, John Gallagher, former Preservation Librarian Sarah McGlynn, and others that made this a reality.  Please stop in to see our new space!  We welcomed our first user, a graduate student in the History of Medicine program, before the tags were even off the chairs.