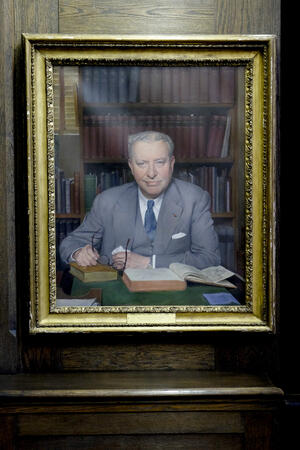 While Harvey Cushing was the impetus behind the formation of Yale's Medical Library, you can find materials on the other founders, John Fulton and Arnold Klebs, within the Historical Library's main reading room.  
John Fulton, the youngest of the three founders of the Historical Library, trained in medicine and physiology at Harvard and Oxford, and came to Yale in 1930 as professor of physiology. He was already deep into collecting books when he served as a resident and disciple of Harvey Cushing at the Peter Bent Brigham Hospital. The two men shared a close friendship based on both scientific and historical interests. Like Cushing, Fulton became a bibliophile, bibliographer, and historian. His special collecting interest was physiological works from the 16th to 18th century. In addition to his major texts in physiology, Fulton authored or coauthored biographies of Harvey Cushing, Benjamin Silliman, and Michael Servetus, and bibliographies of Fracastoro's poem Syphilis, Luigi Galvani and his nephew Aldini, Richard Lower and John Mayow, Joseph Priestley, Robert Boyle, and early works on anesthesia. Fulton became the first chairman of the Department of History of Medicine at Yale in 1951 with offices across the hall from the Historical Library offices.
In 1956, Fulton wrote in his diary that his wife Lucia "had been at me to have a portrait done, and since Deane Keller [who had done Harvey Cushing's portrait] thinks I am hopeless as a sitter and has refused to persevere with the several he started some years ago, I felt free to go to Sir Gerald."  So began a summer of sittings for the portrait of John Fulton sitting on the left side of the fire place in the Medical Historical Library.  Sir Gerald Festus Kelly, who had painted portraits of the royal family including Queen Elizabeth, met with John Fulton for 40 sittings in the summer of 1956.  The first sitting, from 2:30-6:45, involved Fulton stepping up on his platform and sitting in a "rather stiff Victorian armchairs with sundry pillows on the seat since my arm seem to be shorter than those of most of his subjects."  Over the course of the sitting, Fulton heard stories about Kelly's interactions with artists such as Renoir.  Fulton was "completely fascinated by the man," and the time passed pleasantly until a series of photographs of Fulton were taken at the end of the session. "A series of loud and devastating expletives coming out from under the hood; his private photographer would have to take his vacation at this wrong time!"  However, a secretary came in, grabbed the negatives, and stated she would develop and print them for Kelly.  Fulton went home feeling that he had had "a cosmic experience."
Ensuing diary entries capture the details of sitting for the portrait, and more on Gerald Kelly, who had a variety of humorous and interesting anecdotes about various artists and prominent figures of the 20th century.  Fulton wrote that in the final portrait, he is sitting at his desk in the Historical Library, although Kelly had never seen his desk, and used photographs to fill in details.  Behind Fulton, there are representations of his books and diaries, which he wrote in from 1915-1960.  The portrait currently hangs in the back of the Medical Historical, to the left side of the fireplace.