Love the library! Very calming place to study, lovely and helpful staff, abundant resources. Altogether, quite a wonderful place. Thank you all for your hard work!
-- Lucas Butler, New Haven
I remember as a child hearing about my great-grandfather, Arnold Klebs, and the library at Yale. My mother and her sisters had visited Grandpa Klebs at his home Les Terrasses in Nyon, Switzerland before World War II, and my mother worked at the library helping to sort his collection, which had been shipped over from Nyon after his death in 1943. I went to college at Penn (1969-1973) and so was often driving from home in Boston to Philadelphia, and my mother always reminded me that I should stop in to check out the library.
Of course at that point in my life I had better things to do. Ten or fifteen years later I was at a conference at Yale and so the stars were aligned. I found my way to the library and knocked on the librarian's door and introduced myself to Susan Alon. She jumped out of her chair, gave me a wonderful warm greeting, and rushed off with me in tow to find Ferenc Gyorgyey, the head librarian, saying excitedly, "He's a family member." Both Susan and Ferenc were wonderful to me and I was so impressed that they really had taken the time to read and absorb the Klebs correspondence which includes tales of my mother and aunts when they were younger including photos from that time. I'll never forget Susan saying to me that she felt a special relationship with ACK, that she thought they both had mischievous sides, and with a twinkle in her eye said that she thought he might even pinch her if he had been around to that day. Amidst all of those dusty old books, I felt the humanity of the library, both the authors and the librarians, and am grateful for your enduring sensitivity to the family element.
--George Stewart Young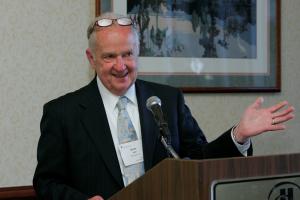 The medical library, with the historical medical library, is one of the great resources of this university. It has substantially facilitated and stimulated my work. I have been a faculty member since 1976 in the Departments of Neurology and Laboratory Medicine, and am now professor emeritus. Over that period I have practiced academic neurology, done virological research, and had a national administrative position in the Department of Veterans Affairs. In each sphere the library has unfailingly provided the intellectual tools to assist my work: research manuscripts, background for administrative documents, preparation of teaching materials and access to clinical information through various resources. In assisting on major projects, such as publishing several books, the library staff has been uniformly expert, generous of time and remarkably thoughtful. The leadership has promoted excellence, collegiality and an environment in which unmatched resources can be studied, productively.
-- John Booss, MD, Professor Emeritus
In 1947, a first year med student, living in a nearby rooming house (no dorm) about to be married... I spent many hours in one of the cubbies, trying to keep up with all the reading.At that time, we had togo to NYC for books—often I came for the heat. My room in the nurses' house had little heat! I read in bed with hat + gloves on!
-- Jocelyn Malkin, MD '51, Associate Trustee
I am eternally grateful to the library for structuring and influencing my life! The incredible exposure to that "reproductive" structure, the Cushing/Whitney Medical Library, served to expand my life in all ways.From the early student explorations of the gems within the stacks to the privilege of chairing with others in the growth of its many helpful programs and facilities, its lifetime impact(s)can never be adequately expressed.
75 years is only the beginning of its ongoing input in shaping others' lives.
Congrats for a fabulous "beginning" for which we share with the Cushings, the Fultons and the Klebs!
-- Martin E. Gordon, MD, St Louis, MO
As a medical librarian, I was delighted to be selected as Director of the Cushing Whitney Library in 1992. Of course there was the prestige of the University, the Schools of Medicine and Nursing, and the Hospital, but there were also definite benefits from the library point of view. The first was a lovely remodeled facility, completed not long before my arrival. On my arrival, I quickly learned that I would be sitting in the office of a prior librarian, Fred Kilgour, a library legend for implementing a very early system of library cooperation. Quickly following on that discovery was the pleasure of being warmly welcomed by the faculty, students and staff with whom I would be able to move the library forward in the years ahead.
--Nancy Roderer, Washington, DC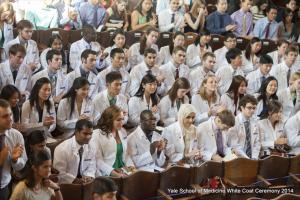 My favorite memories are the days I spent here with all my classmates, studying for our medical boards!
-- Carla Lopez, YSM class of 2017