Judy Spak, MLS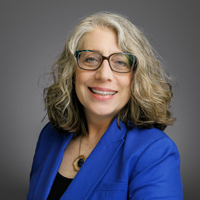 Head of Academic Research and Education
Office:
SHM L E34, Sterling Hall of Medicine
Judy provides research assistance and collaborates with faculty and students on a broad range of topics. She's particularly interested in health professions education scholarship and the role of librarians in teaching and assessing evidence-based information-seeking skills of health professions trainees.
Judy serves on the Dean's Advisory Council on LGBTQIA+ Affairs (DAC) as an associate member and provides research support for health and education topics related to LGBTQI+ and other underrepresented populations in medicine. She collaborates on evidence and knowledge syntheses projects, providing expert searching and methodological expertise.
Judy leads a team of information professionals dedicated to providing exceptional research and education services to the health sciences community at Yale.
She received her MLS from Southern Connecticut State University and BA from Hofstra University.
Research & Liaison Areas: