(by Rolando Garcia Milian and Terry Dagradi)
Last summer we invited Yale biomedical researchers (undergrads, graduate students, postdocs, faculty, associate researchers, etc.) to share results from their work where they felt the images produced in search of science crossed over to art.  We thank all of you who submitted and appreciate your willingness to share with the community. 

The images were reviewed by a committee including New Haven sculptor Gar Waterman, Sarah Fritchey (Curator / Gallery Director at Artspace New Haven), and Dr. Derek K. Toomre, Associate Professor of Cell Biology and Director of the YALE 'CINEMA' Laboratory. Together, they selected many of the images currently on exhibit in the foyer of Cushing/Whitney Medical Library as well as the three 1st Honor awardees.

The 1st Honor Awardees are:
Marco Onorati, Department of Neurobiology
Neurons in a Dish, 2015
Juror comments: "Neuron: Good rendition, dreamy quality"  "The fantastic crystalline structure in the center of this composition is very powerful. The sense of pull and energy is so forceful that it almost suggests a big bang moment."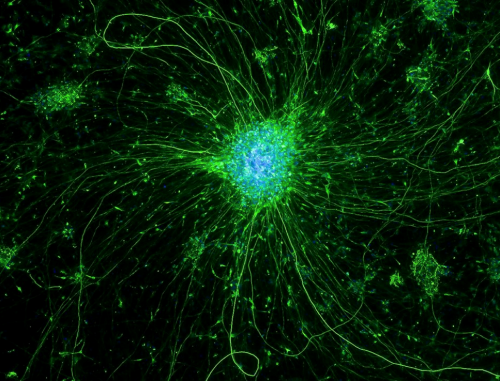 (Click to view larger image)
Neurons differentiated in a dish from stem cells.  Microphotograph, fluorescence. 

Mustafa Khokha, Department of Pediatrics
Frog Head, Year: 2015
Juror comments: "Great composition and detail."  "Just a cool thing, whatever it is"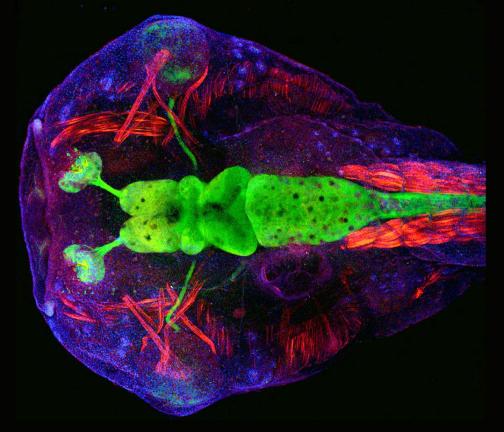 (Click to view larger image)
Xenopus laevis tadpole (frog). Brain (green) and Actin (red) and nuclei (blue) View from the back of the head over the Imaged with Leica Sp8 Confocal by Helen Rankin Xenopus Cold Spring Harbor Course.
Kate Henderson, Department of Pathology
Stones Dreaming, 2013
Juror comment: "My favorite - love this one - fabulous color and pattern"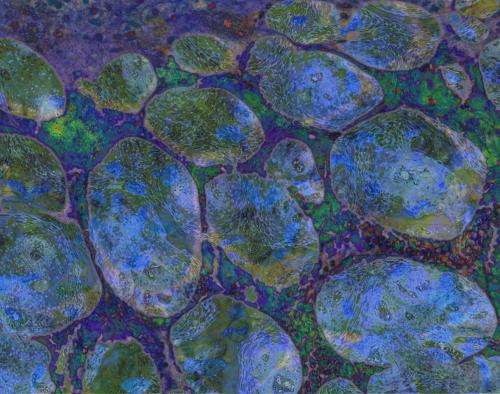 (Click to view larger image)
Abstract digital composition of microscopy endocrine images.
Image description: I create environments from natural elements to give people a sense of place, describing emotional essence and energy that connects us to each other and everything around us. My images both describe and celebrate the intrinsically aesthetic structure of the natural world and the ever-present duality in all things. I invite the viewer to see and feel the world both within us and around us, experiencing the macro vs microelements common to all.
Painting-with-cells is how I describe the cyto-Illusions series. I start by using microscope images of human cells and also images of abstraction "found" in nature. Through layering and manipulation techniques, I create an image that mirrors micro images on a macro level. On one level the images are a colorful abstraction that allow the viewer to freely explore and experience the image on their own. Many images are suggestive of a specific element such as water, but others are more environmentally placed. On another level the images are about the reality of nature; cells of disease, the growth structure of plants, and the patterns of light filtered through the leaves.
The Viewers' Choice Award
This was determined by all those who voted (404 votes total) on an exhibition album created on the Medical Library Facebook page.
Laura Pappalardo – Department of Neurology
Astrocytes display robust intracellular calcium response in model of astrogliosis, 2013
(Click to view larger image)
Astrocytes, a non-neuronal type of cell in the brain and spinal cord, respond to central nervous system insult through the incompletely understood process of reactive astrogliosis, which is a hallmark in pathologies such as multiple sclerosis and spinal cord injury. While the ramifications of astrogliosis are debated, it is agreed that in its extreme forms, this process leads to the formation of a scar, which is long-lasting and can inhibit the regeneration of injured neurons. While the molecular drivers of astrogliosis are an area of active investigation, a clearer understanding is needed. Here, we show that after a scratch injury, there is a robust intracellular calcium response, which propagates through the syncytium of confluent astrocytes (red indicates high intracellular calcium). This calcium transient leads to downstream signaling that can regulate the astroglial response to injury. We are currently working to investigate the mechanisms behind this phenomenon, paying particular attention to voltage-gated sodium channels.
Color scale represents the ratio of fluorescent signals induced by 340 and 380 nm excitation in cells loaded with Fura-2 AM. Scale bar, 50 ╡m. In collaboration with Stephen Waxman, Joel Black, Mark Estacion, and Omar Samad.