The Cushing/Whitney Medical Library is pleased to announce that volumes from our manuscript collection, focused on medical education, are now available online! The effort to digitize these volumes and make them freely available worldwide was generously funded by the Arcadia Fund.
The Historical Library holds a collection of volumes handwritten between the sixteenth and early nineteenth centuries documenting medical education in multiple ways. Student notes of medical lectures show transmission of knowledge by notable medical men such as William Hunter (1718-1783), physician and man-midwife to Queen Charlotte and William Cullen (1710-1790), one of the leading medical faculty members at the University of Edinburgh. Notebooks describing patient cases, diaries documenting travels to different medical schools or popular medical literature at that time, or even student projects such as a herbarium that described uses of plants, represent different manners of medical learning. For women like Eliza Heath, recipe (or commonplace) books contained medical "cures" from all kinds of written and oral sources in order to battle a wide variety of household ailments.
Some of the earliest Medical Institution of Yale College (now Yale School of Medicine) student notebooks, containing the lectures from the founders and early faculty of our medical school, are freely available online as well. Dr. Nathan Smith, the first Chair of Surgery, lectured on the theory and practice of "physic" and surgery, captured in Richard Warner's notes in 1818-1819, and in this anonymously written notebook for 1819-1820.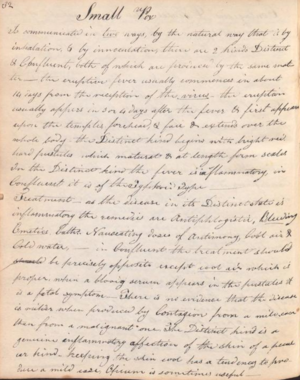 Please explore these volumes on the Cushing/Whitney Medical Library site on Internet Archive, as part of the Medical Heritage Library. By early April, nearly 70 volumes will be available for online viewing and download. You can also find other Arcadia-funded digitized texts, including incunables, medieval and Renaissance medical and scientific manuscripts, Yale Medical School theses and early Arabic and Persian books and manuscripts, in this collection. Also, dive into another collection complementing our medical education materials, For the Health of the New Nation: Philadelphia as the Center of American Medical Education, 1746-1868, which provides free online access to 140,000 pages of lecture tickets, course schedules, theses, dissertations, student notes, faculty lectures notes, commencement addresses, opening addresses, and matriculation records.