Our 24/7 Computer & Study Space is always open; accessible through an after-hours entrance when the library is closed.
Visitors must leave the Library by 9:45 PM.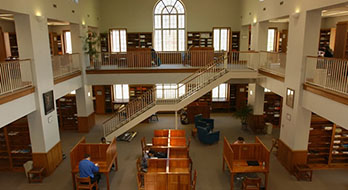 2018 hours
Monday - Thursday: 7:30a.m. - midnight
Friday: 7:30a.m. - 10:00p.m.
Saturday: 10:00a.m. - 10:00p.m.
Sunday: 9:30a.m. - midnight
Exceptions* (2018)
March 30, 11am-4pm
September 3, 11am-4pm
November 23, 11am-4pm
December 26-28, 11am-4pm
Closed the following days:
Martin Luther King, Jr. Day, January 15
Memorial Day, May 28
Independence Day, July 4
Thanksgiving Day, November 22
Recess Days, December 24-25
Recess Day, December 29-31
New Years Day, January 1, 2019
*Additional exceptions will be posted throughout the semester; please check this page for updates.