Happy 145th Birthday Harvey Cushing! 
Harvey Cushing, born on April 8th in Cleveland in 1869, was the last of ten children of Henry Kirke and Betsey Maria Cushing and descended from a long line of Cushing doctors.
A brief list of his accomplishments include: 
He considerably improved the survival of patients after difficult brain operations for intracranial tumors.
In clinical medicine, he was an early advocate of x-ray and blood pressure determination.
He developed techniques to control bleeding from the scalp and promoted decompression for relief of pain in cases of inoperative brain tumors.
Cushing was an early adopter of electrosurgery, playing a role in the development of Bovie electrocautery tool with physicist W. T. Bovie.
He was the world's leading teacher of neurosurgeons in the first decades of the 20th century.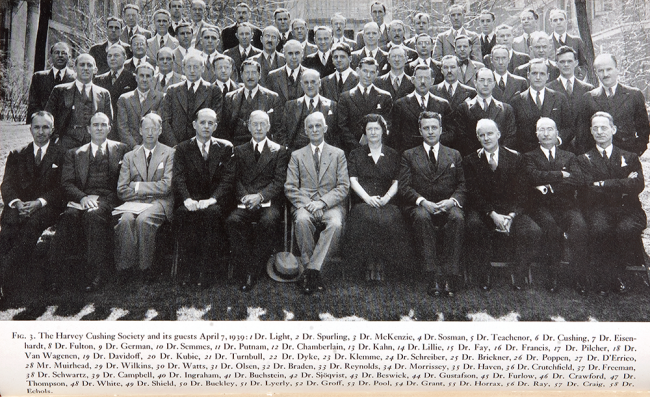 For Cushing's 70th birthday in April of 1939, The Harvey Cushing Society, formed in 1932 by younger neurosurgeons in Cushing's honor, met in New Haven Ct. for a celebration.    
At the formal dinner Louise Eisenstadt, MD, colleague and collaborator of the Curator of the Brain Tumor Registry presented Cushing with the gift of Bibliography of the Writings of Harvey Cushing, prepared by the Harvey Cushing Society and published by Charles C Thomas.
To learn more about Cushing's life and accomplishments, visit the Cushing Center.