The Yale Medical Library and Yale Program for Humanities in Medicine partnered on behalf of the Yale Medical Library's newest collection: Humanities in Medicine. This collection focuses on works of fiction, nonfiction, and poetry that relate to the human condition and human experience.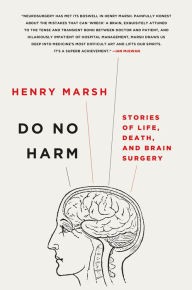 This month, we feature a newly published memoir by neurosurgeon Henry Marsh: Do No Harm. Marsh's writings give insight into the complex and oft compelling inner thoughts that reflect the life and death decisions made by one neurosurgeon looking back over his long career.
The Humanities in Medicine Collection can be found in the shelving units directly across from the Circulation Desk.         
Come join us and browse through these great new books!