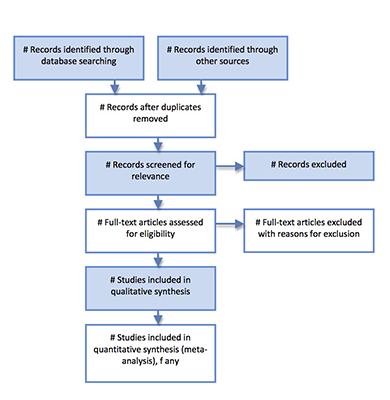 Example flow chart used in systematic reviews, from Moher D, Liberati A, Tetzlaff J, Altman DG, The PRISMA Group (2009). Preferred Reporting Items for Systematic Reviews and Meta-Analyses: The PRISMA Statement. PLoS Med 6(6): e1000097. doi:10.1371/journal.pmed1000097
Did you know our librarians are available to assist with systematic reviews?
The librarian, as full partner and co-author, is committed to collaborating and supporting the following Systematic Review tasks:
Determining if a systematic review has already been done on a topic.
Translating the research question into an appropriate search strategy.
Translating the search concepts into controlled vocabulary and keywords so that both precision and retrieval are maximized.
Choosing specific databases and other information sources to be searched.
Conducting the literature searches across all the information sources chosen.
Maintaining records of search results and following up with alerts and updates as needed
Helping to obtain all required articles cited in search results and other venues.
Providing guidance and support regarding bibliographic management tools, such as EndNote or RefWorks, to manage citations and easily produce bibliographies.
Writing the literature search methodology section for the submitted manuscript.
The Library adheres to the requirements for authorship and contributorship by the International Committee of Medical Journal Editors (ICMJE).
For more information, contact your department liaison and consult our Guide to Systematic Reviews: Planning, Writing and Supporting.