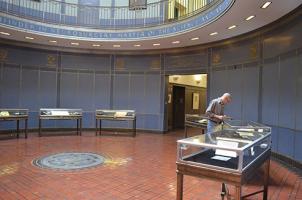 Restore the Cushing Rotunda – $1,500,000
Dedicated 75 years ago by the Class of Yale 1891 in affectionate memory of their classmate Harvey Cushing, the Cushing Rotunda is perhaps the most cherished and distinctive space within the Medical Center. For generations the rotunda has ignited and inspired hope that others might contribute so much to the art and science of medicine as Dr. Cushing did. Help restore the Cushing Rotunda to its original luster and beauty, so that it inspires scholars and clinicians for years to come.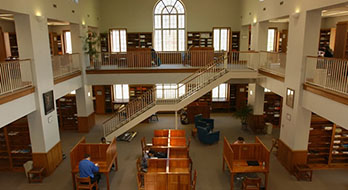 Renovate the Morse Reading Room - $300,000
Beloved by visitors as an inviting and quiet space in which to read, write, and reflect, the Morse Reading Room is one of the most heavily used spaces in the library. Your gift will contribute to the upkeep of this beautiful space to ensure that it continues to serve as an attractive and welcoming haven for users.
Build a Faculty Video Production Studio - $200,000
Our Instructional Design Librarian assists faculty in the creation of medical education videos used in the curriculum. Help us build a sound proof studio, equipped with the computing and recording technology necessary to continue and expand this essential work.
Named Refreshment Station - $25,000
The library's refreshment station offers students a convenient place within the library to get a cup of coffee, tea, hot chocolate, or filtered water. This is particularly appreciated by students studying late into the night, or arriving for classes early in the morning. Help redesign our current refreshment station.
Named Carrels - $10,000
Quiet places to study are as essential as they have always been. Large carrels offer users privacy, a refuge from distraction, and space to spread out. Help the library acquire additional carrels for our Morse Reading Room, and other quiet spaces within the library.
Named Technology Workstation - $10,000
Well-designed and resource rich computing workstations provide users with both a functional and comfortable space at which to do their work. Assist the library ensure it's public computing furniture is modern and inviting.