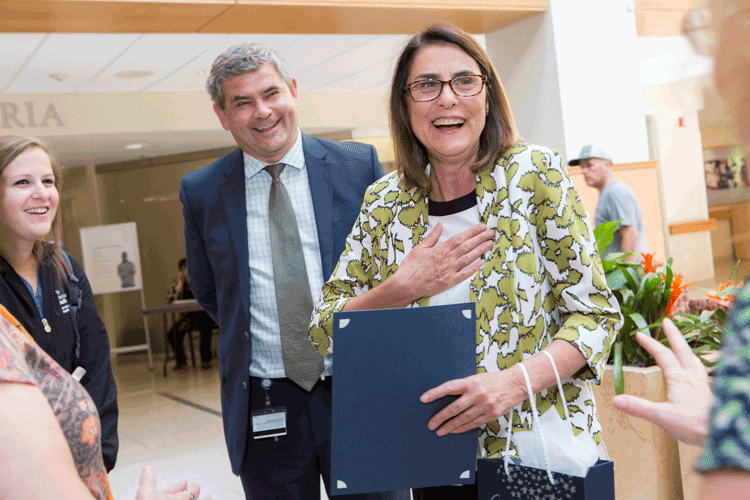 Janene Batten receives the Nurses Choice award
by Judy Spak
We are delighted to announce the recent recognition of one of our own by the Yale New Haven Hospital (YNHH) nursing community.
Janene Batten was secretly nominated and received the Nurses Choice Award. The award is presented to "an outstanding individual who is not a nurse, but one who supports and recognizes the importance of the practice of nursing at YNHH."  
Janene was presented with the award on September 13th in the YNHH Atrium. 
In her nomination letter, leading nurse researcher Janet Parkosewich, RN, DNSc wrote of Janene: 
The Nursing Research Committee nominates Janene Batten, our nursing librarian. As a founding member of the Nursing Research Committee, Janene has longevity in understanding the needs of nurses, particularly in the Magnet Model domain of new knowledge, innovations, and improvements.

 

As a consultant and educator, she recognizes and values the work of the nurse by tirelessly supporting hundreds of nurses to become familiar with the library's extensive resources and hone their electronic search skills as they work on EBP, quality improvement, research, or academic projects. Avast number of nurses have been influenced by Janene as she is the primary faculty member for the Setting the Stage for EBP class, a program that teaches nurses how to conduct electronic literature searches. She has been a significant contributor to the transition of this offering to a new HealthStream format for 2017. Janene encourages teamwork in finding best evidence to support the delivery of patient care in several ways. She provides the EBP curriculum to teams of new graduates participating in the Nurse Residency Program as they prepare for their residency projects. She has a strong presence in the Nursing Shared Governance Councils. She offers a library tutorial to assure that council members can find the best sources of evidence to guide practice decisions. She is on the faculty of a new program designed to advance EBP skills for a new EBP mentor role developed for all delivery network councils. Janene created the YNHH Journal Club site on the library's nursing website to assure that nurses have easy access to the Journal Club Toolkit, preferred journals, a listing of YNHH nursing publications and more. It is time to recognize Janene's unfailing support and amazing behind-the-scenes contributions that significantly influence how nurses deliver evidence-based care by awarding her the 2017 Nurses' Choice Award.
Janene's work with and support of nurses throughout the hospital and the School of Nursing is an exemplar of successful outreach to the communities we serve. Please join us in congratulating Janene on receiving this prestigious award!