Peer-to-Peer Teaching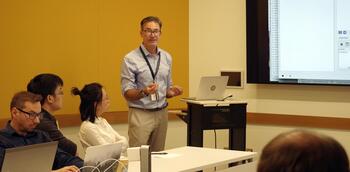 Do you have bioinformatic/genomic analyses skills? Share your knowledge and gain experience by teaching a class or workshop at the Medical Library! 
We'll handle all the logistics. You just prep, teach, and have fun with your peers. You'll gain valuable teaching experience, improve your communication skills, and network with peers and colleagues.
Topics can be broad topic (e.g. Python for biologists) or very specific (e.g. your favorite specific R package) -- it all depends on your expertise.
Popular class requests have included:
Methylation analysis

Demultiplexing single-cell RNA-seq 

WGCNA: R package for weighted correlation network analysis

Multiscale Embedded Gene Co-expression Network Analysis
Contact rolando.milian@yale.edu or sofia.fertuzinhos@yale.edu at the Bioinformatic Support Hub to sign up!