The Historical Library is pleased to announce a new online exhibition showing items you might never find in our physical exhibits!  https://onlineexhibits.library.yale.edu/s/materialfragility/page/home
"Materiality, Fragility, and Loss in the Medical Archive" was curated by Anabelle Gambert-Jouan, a doctoral candidate in the Department of the History of Art, who was supported by a Graduate Professional Experience Fellowship from the Graduate School of Arts and Sciences. She reflects on the exhibition in this blog post.
Overcoming the Fragility of Objects with a Digital Exhibition
by Anabelle Gambert-Jouan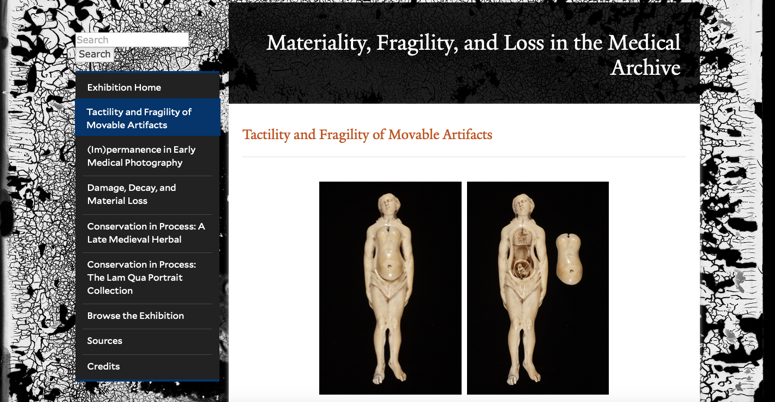 The idea for the exhibition "Materiality, Fragility, and Loss in the Medical Archive" emerged in a moment of widespread closure of museums and collections. What could be done to showcase the Medical Historical Library's holdings when access to the display cases beneath the Cushing rotunda was restricted? Instead of a limitation, the switch to an entirely online exhibition became an opportunity to highlight photographs, books, and other medical artifacts that are either rarely seen by the public due to their fragile state or cannot be appreciated fully in traditional display cases because they have mechanistic components or hidden parts requiring tactile engagement.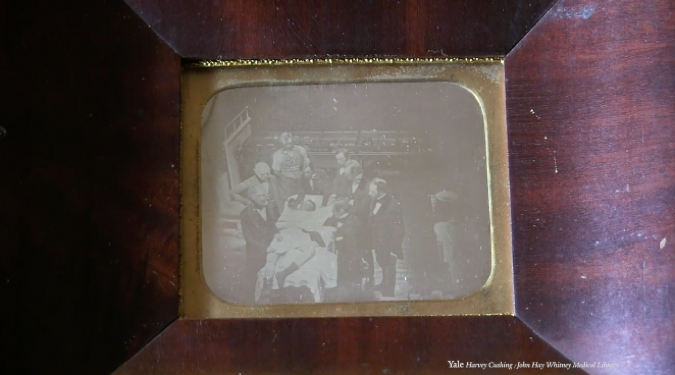 As curatorial fellow at the Medical Historical Library, I had the opportunity to explore the collection in-person, including the recently acquired Stanley B. Burns M.D. Historic Medical Photography Collection, to select the works that best expressed the exhibition's themes. I wanted to illustrate, through the digital medium, that a daguerreotype needed to be held in a certain way for the image to become visible for an instant. I wanted to convey the strange sensation of peeling back the layers of the paper organs depicted in G. J. Witkowski's Anatomie iconoclastique. To do this, I used photographs and videos created especially by the staff of the Medical Historical Library.
The exhibition examines these fascinating historical objects, with an emphasis on the senses of sight and touch. The exhibition also catches the "behind-the-scenes" moments of the collection. Recent and ongoing work by conservators and scientists is highlighted in the final section of the exhibition, to explain how specialists are seeing through the damage and the material decay to learn more about objects.