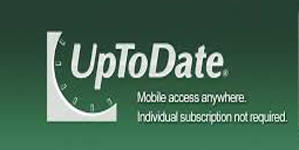 The UpToDate Anywhere mobile app is available for Apple iOS, Android and Windows 8 phones and tablets.  Free individual access is available to all affiliates of Yale University and Yale-New Haven Hospital.  Initial registration must be done either on the network or from a remote connection to Yale or YNHH.  Individual login also allows accumulation of free CME/CE credits gained by reading UTD topics.  An Internet connection is required to use UpToDate Anywhere.  In order to keep your individual account active, logon to your account from a Yale or YNHH computer (or remote connection) at least once every 30 days.
Consult the mobile device page for more information on UpToDate Anywhere app.
UpToDate is linked from EPIC along with two other popular resources AccessMedicine and Micromedex.  By linking your individual account withUpToDate with your EPIC ID you can accumulate CME whenever you access UpToDate from within EPIC.  For details on UpToDate in Epic ...