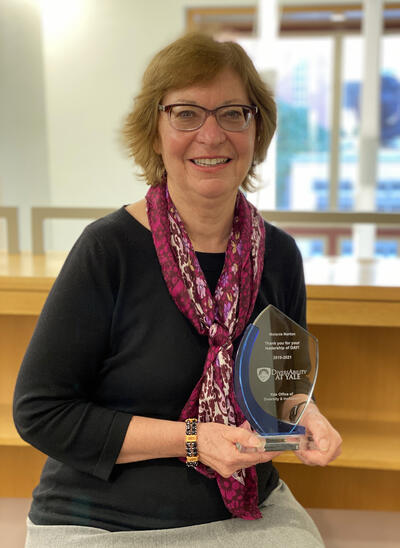 Melanie Norton, Head of Access and Delivery Services, was recognized for her outstanding leadership of the DiversAbility at Yale (DAY) affinity group. Throughout her career Melanie has been passionate and responsive to the needs of individuals impacted by disability, and in particular with the challenges students with disabilities encounter when trying to use public spaces and academic libraries. As the co-chair of the DAY from 2019 to 2021, Melanie championed the causes of faculty, staff, and students with disabilities (either visible or invisible) so as to improve their sense of belonging at Yale. 
DAY's mission is to create a personal and professional network for all Yale employees impacted by disability, identify opportunities to promote recruitment, retention and advancement of people with disabilities, support and collaborate with other Yale affinity groups and efforts to create an inclusive Yale community, and increase awareness of issues related to disability through learning opportunities, social activities, and participation in outreach activities.
Deborah Stanley-McAuley, Associate Vice President for Employee Engagement and Workplace Culture, presented Melanie with the award and commended her for her committment to accessibility, disability advocacy, and community building at Yale and beyond.  
Kudos from DAY colleagues:
"Thank you for your dedication, contributions and outstanding service as affinity group leader in making Yale a better place for different staff constituencies across camps." - Henry Kwan, Director for Shared Interest Groups
"Thank you so much for everything you've done to make Yale a better place. Your commitment to the Yale community and our well-being is so very appreciated." - Tracy MacMath, Web Application Developer at Beinecke Rare Book & Manuscript Library
"Thank you for your leadership of DAY during an extraordinarily challenging time; I'm so grateful for everything you did to maintain and strengthen community during your term as co-chair!" - Julie Linden, Director of Collection Development Scholarly Resources