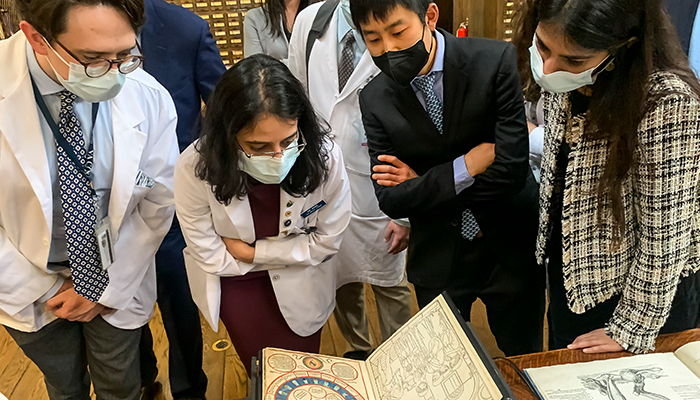 Medical librarians have been extremely busy this summer orienting and educating new fellows, residents, and faculty members across the medical campus and Yale New Haven Hospital. These sessions give new and seasoned users the opportunity to meet their dedicated library liaison and receive a primer on the medical library's numerous resources and services. Perhaps most importantly, these sessions establish medical librarians as partners in research, clinical, and educational endeavors, and help cultivate relationships that will last throughout each user's Yale career.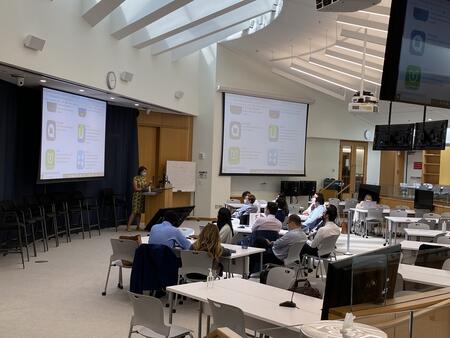 In June, first-year Surgery residents journeyed to the Medical Library's large classroom to meet with Alexandria Brackett, Clinical Research & Education Librarian, and Melissa Grafe, Head of the Medical Historical Library, and learn about contemporary and historical library resources. Alexandria highlighted a variety of tools to help them in their practice and emphasized her role as liaison librarian in supporting their success. Melissa showcased many of the Medical Historical Library's collections and shared tips and tricks for searching the archives.
Over on Yale's West Campus, Janene Batten, Research & Education Librarian for Nursing, met with new Yale School of Nursing (YSN) faculty members to suggest services and library resources that align with their curriculum. Embedded across all levels in the YSN curriculum, Janene regularly educates faculty and students about using evidenced-based resources like Scopus and PubMed, and point-of-care tools like ClinicalKey for Nursing, which are essential to the nursing profession.
Back on Cedar Street, Melissa Funaro, Clinical Research & Education Librarian, visited the Psychiatry, Pediatrics, and Child Study Center departments to familiarize fellows and residents with the myriad of services and resources the Medical Library provides. Melissa connected each department with their curated research guide and highlighted services such as literature searching, data management planning, and scholarly publishing to ensure new users were aware the many ways the Medical Library can assist in research and clinical practice.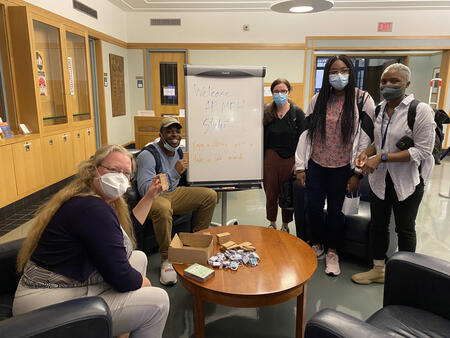 Kate Nyhan, Research & Education Librarian for Public Health, held an orientation session at the Medical Library for Yale's Research Education Institute for Diverse Scholars (REIDS) on evidence synthesis methods, maximizing research impact, complying with funder public access policies, and choosing the right journals to disseminate their work. She also taught in the Summer Program in Environmental Health Sciences, which introduces rising college sophomores and juniors to environmental health and toxicology.
Kayla Del Biondo, Simbonis Librarian for Public Health, and Kate also presented virtually and in-person to incoming Executive MPH students, Advanced Practice (AP) MPH students, new MPH, PhD, and MS students. Their sessions covered everything from health science databases to library spaces to historical materials.
Kaitlin Throgmorton, Data Librarian for the Health Sciences, and Dana Haugh, Web Services Librarian, held virtual training sessions for Yale School of Public Health summer internship participants. Dana provided tips and tricks for creating effective PowerPoint presentations and Kaitlin gave an overview of best practices for incorporating data visualizations into their presentations. Additionally, Kaitlin taught an introduction to research data management seminar to the Yale Interdisciplinary Prostate Program (YIPP) and the OB/GYN residency orientation.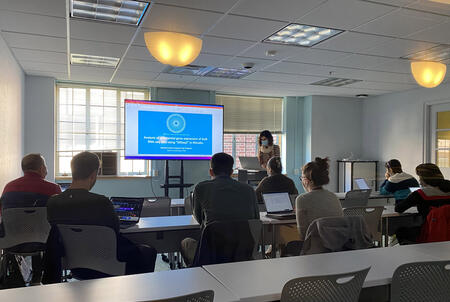 Courtney Brombosz, Research & Education Librarian, headed to the Cohen Auditorium to give a library orientation for incoming medical students who choose to do research before they start medical school through the START@Yale program. Courtney introduced them to some of the key databases for conducting research and shared ways the Medical Library can help them throughout their career at Yale.
Alyssa Grimshaw, Clinical Research & Education Librarian headed upstairs to the Beaumont Room to give a Grand Rounds presentation to the Urology Department titled "Connecting to Library Resources and Services." The presentation covered library resources and services available to the clinical and academic Yale affiliates. Attendees also learned useful tips for searching medical databases, why citation management software is helpful in organizing and preparing their research, and how to take ownership of their author profiles after publishing.
In the Medical Library's instruction classroom, Caitlin Meyer, Research & Education Librarian, taught multiple sessions for Physician Associate students to help with their thesis projects. The workshops helped students transform nascent thesis topics into focused research questions as well as develop search strategies for multiple literature databases.
Sofia Fertuzinhos and Rolando Garcia-Milian, of the Medical Library's Bioinformatics Support Hub, organized a hybrid teaching series entitled "Intro to Transcriptomics: from counts to functional analysis." This series of seven workshops is designed for researchers interested in learning the basic steps for re-analysis of publicly available bulk-RNAseq data. It covers basic genomic data annotation concepts, databases where to find datasets for re-analysis, how to perform differential gene analysis, add gene annotations and perform gene pathway analysis, as well as tools to visualize the results. Additionally, Rolando and Sofia gave several orientation classes to new medical students and BBS graduate students.
Terry Dagradi, Cushing Center Coordinator, gave dozens of tours of the Medical Library and the Cushing Center to groups of middle and high school students in programs around New Haven and Yale. Students enrolled in programs such as the Ulysses S. Grant Foundation, EduExplora, Horizons at Foote, Yale Pathways to Science excitedly followed Terry through the library while learning about Harvey Cushing, Phineas Gage, and saw real human brains for the first time.
Finally, a cohort of medical librarians recently welcomed this year's incoming class of medical students to Yale and the Medical Library. Led by Courtney Brombosz, the group comprised Megan Nance (Access Services Librarian), Caitlin Meyer, Melissa Grafe, Zsuzsa Nemeth (Head of Clinical Research and Education), Sofia Fertuzinhos, and Lei Wang (Head of Technology and Innovation). Each librarian provided a brief overview of services and tools available to the incoming students and reiterated the Medical Library's commitment to supporting them throughout their educational journey.